'House - Season One' DVD

Thursday 9th March 2006
By Philip Ellwood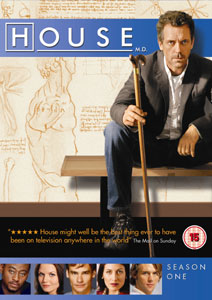 Released: 27th February 2006
R.R.P - £49.99
'House' aka 'House M.D' is one of those shows that sneaks up on you, takes you by surprise and wins you over immediately. In the US 'House' has relaunched Hugh Laurie's career and has even given the Brit actor something of a sex symbol status. The basic premise follows Dr Gregory House (Hugh Laurie) and his team of young medical experts as they try to solve medical mysteries. Each week the team is faced with a seriously ill patient and must race against the clock to cure them before it's too late.
'House' essentially is a mystery show. In many ways it is reminiscent of a detective story as the team thrash it out to get to the bottom of their patient's bizarre and often mind-boggling illness. Laurie's performance as House without a doubt carries the show. House is a complex character who often uses wit and sarcasm when communicating to his patients or staff. He hates people in general and prefers to lead his team from the comfort of his office rather than by example. House's team of young medics contrast greatly with his razor-sharp personality. Dr Cameron (Jennifer Morrison) is the only female medic on House's staff and often lets herself get emotionally involved with the patients. Dr Chase (Jesse Spencer) is the rebel of the pack and is often trying to further his own career no matter the expense. Dr Foreman (Omar Epps) is perhaps the most balanced and simply just wants to do the right thing for his patients.
House's bedside manner isn't always the most ethical and unfortunately for House his boss, Dr Cuddy (Lisa Edelstein), doesn't always let him have his own way. The two regularly clash heads over House's methods. The mediator for the two characters comes in the form of Dr Wilson (Robert Sean Leonard), a diagnostician and long-time friend of House. Dr Wilson is the only character in the show to have any influence over House (and even then that influence is very limited!).
Over the course of the first season, House and his team must deal with a desperately sick nun, a schizophrenic woman, a legendary jazz musician near death's door and a seriously ill gangster amongst others. Alongside the patients House must also fight off the attentions of one of his team, deal with a millionaire who wants to pump money into the hospital (on the condition that House is sacked) and face up to an ex-girlfriend who appears back in his life.
Over the 22 episodes, House and his team deal with a variety of characters and just when you think they can't get any more difficult cases, another comes running along. 'House' is a fantastic series and a great vehicle for Hugh Laurie. Laurie's performance creates a character who is endearing but also incredibly harsh at times. His words are often cutting and it's the patients, not just the staff, who are on the receiving end. Jennifer Morrison is the only supporting cast member that really gets to flesh out her character but that isn't to say the other characters are wasted. As the second series is proving, there is plenty of time for further development of all the characters.
'House - Season One' is a fantastic DVD package. The series is consistently enjoyable and sets a high standard for television drama. For fans of Laurie check out the extra footage on disc 6 which show him trying out for the role of Dr Gregory House. The DVD set has a lot of great extras and gives fans a good insight to how the show works and what the cast are like off-screen. 'House' on DVD is a must for fans of the show and also for newcomers. If you haven't seen it, you are seriously missing out.
DVD Extras
The Concept

Casting Session

Medical Cases

House-isms

Dr House
Celebrities Worldwide Rating: 9 out of 10
Click here to buy 'House Season 1 DVD'
Reviews Archive