Shakira - 'Oral Fixation Vol 2'

Monday 13th March 2006
By Philip Ellwood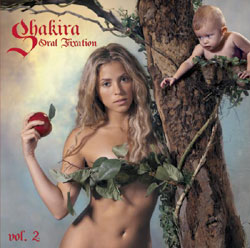 It may have seemed that Shakira has been off the scene in recent years but in actuality she has been hard at work touring, recording and releasing the Spanish language, critically acclaimed album 'Fijacion Oral Vol 1' and recording her new English language album, 'Oral Fixation Vol 2'. Last time we saw Shakira in the UK she was promoting her hugely successful 'Laundry Service' album.
'Oral Fixation Vol 2' finds Shakira in a more mature mood than her previous offering. The songs are still a varied mix of styles but Shakira has much more to say with this album. The opening track 'How Do You Do' is sure to cause some controversy. The track opens with excerpts from the Lord's Prayer being chanted before launching into an attack on religion. Similarly closing track 'Timor' begins with children chanting and provides Shakira with the platform to air her political views. Oddly the single 'Don't Bother' seems a little out of place on the album. It's by far the most commercial track and next to the other tracks on the album doesn't quite have the bite to be a standout track.
Highlights on the album include the rumoured second single, the gentle ballad 'Illegal' featuring Carlos Santana and the almost showtune sounding 'Hey You', which illustrates Shakira's ability to change from girly whispering into full blown growling in a single sentence. Each track is very different from the next and Shakira more than proves her versatility (she even speaks French on the gorgeous 'Something').
'Oral Fixation Vol 2' is a definite progression for Shakira. It proves that she shouldn't be grouped with the Britney's of the world because unlike Ms Spears, Shakira has a lot to say about the current state of the world. It may have been nice to have a few more uptempo numbers but with a collection of songs so perfectly written it's hard to pick fault. The album also gives Shakira the opportunity to showcase herself as a songwriter and producer. She is credited as both for every track.
Celebrities Worldwide Rating - 8 out of 10
Click here to buy 'Shakira - Oral Fixation Vol 2'
Reviews Archive