Cyndi Lauper - 'The Body Acoustic'

Monday 20th March 2006
by Philip Ellwood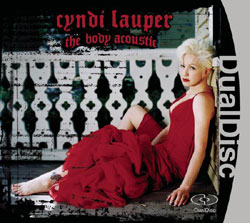 It's been a while since Cyndi Lauper had a high profile release here in the UK. Her last album 'At Last', a collection of standards, was a pretty quiet release so it is with great joy that Ms Lauper releases 'The Body Acoustic'. The album sees Lauper, pairing with some of her musician friends, stripping down her back catalogue to capture the rawness of her classics. Whilst the album does achieve this, it also demonstrates what an incredible songwriter Lauper is.
All of the classics are present over the 12 tracks. Cyndi's voice sounds incredible. She can still vocalise vulnerability like no other and when she's in full voice her power is undeniable. Lauper's voice commands an audience and has the ability to move you to tears in a second. This is perhaps most evident on the gorgeous rendition of 'Time After Time' with Sarah McLachlan. 'Time After Time' is one of those songs that pops up everywhere but somehow Lauper and McLachlan still make it sound fresh. McLachlan pops up for another duet on the gorgeous 'Water's Edge'. This time McLachlan plays backing singer and lets Cyndi take centre stage.
Ani Di Franco and Vivian Green join the mix for a stirring rendition of the anthemic 'Sisters Of Avalon' and even Shaggy makes an appearance, adding his unique rapping style to 'All Through The Night'. Despite the guest stars, Cyndi is at her most powerful when she sings alone. Her stripped down version of the classic 'True Colours' is still as poignant today as it has ever been and the lesser known track 'Fearless' is an undiscovered treasure.
'The Body Acoustic' is packaged as a DualDisc. The DVD side offers the entire album in surround sound along with 4 video performances and a documentary about the album. This together with the track audio side is an absolute delight for any fan. If you're reading this review and you've never experienced a Cyndi Lauper then go out and get this one. It covers her best work and showcases her vocal and songwriting ability.
For a woman of 53, Cyndi Lauper has never looked or sounded better. 'The Body Acoustic' is a true delight and illustrates the work of a legend. Lauper is one of the most important women in music and I can't wait to see what she releases next.
Celebrities Worldwide Rating: 9 out of 10
Click here to buy 'Cyndi Lauper - The Body Acoustic'
Reviews Archive