Ne*Yo - 'In My Own Words'

Monday 20th March 2006
by Philip Ellwood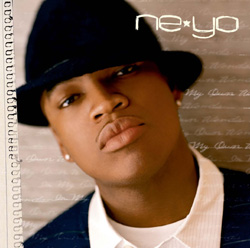 Ne*Yo (real name Shaffer C Smith) is the latest US R&B import attempting to crack the UK market. The 22 year-old Arkansas born singer/songwriter is hoping to cast himself apart from his contemporaries by marketing himself as a singer and a songwriter. Before launching his own career, Ne*Yo wrote the monster hit 'Let Me Love You' for fellow R&B sensation Mario and has a long list of writing credits to his name already. With the release of his debut single here in the UK, which has already been huge stateside, Ne*Yo is about to find out whether or not he can translate his success.
'In My Own Words' is a solid, well-written contemporary R&B record. Before I listened to the CD I feared that Ne*Yo may be a poor Usher imitation. After listening to it I realise I couldn't have been more wrong. The album, unlike many R&B records around, strikes an even balance between uptempo numbers and slow songs. I was delighted to still be enjoying the record when it reached the halfway point. It is so usual to hear an R&B record that contains a few great tracks and the majority bland fillers. This definitely isn't the case. From the opening bars of the first track 'Stay' you can tell you're in for a enjoyable listen. Over the 14 tracks the beats are present, the mood almost convinces you it's summer and Ne*Yo's voice is pure raw soul.
Debut single 'So Sick' is a slick piece of R&B. Ne*Yo sings about the pain of a breakup and adjusting to life as an individual. Interestingly the song isn't a bitter one and instead is more of an empowerment anthem. You can already picture people over the world using the song to get over a bad break-up. Elsewhere on the album Ne*Yo is in seductive mood on the raunchy 'Miner', ready to party on 'Sign Me Up' and proves his vocal ability on the beautiful ballad 'Girlfriend'. The standout track is without a doubt the incredible 'Sexy Love'. The track is a classic R&B number and brings to mind a strong sense of Michael Jackson in his prime. The track shows Ne*Yo's vocal maturity and illustrates his strength as a songwriter.
'In My Own Words' is an assured debut and deserves to propel Ne*Yo to global stardom. There isn't a bad track on the album and it's good to see an original male R&B artist. Any comparisons to Usher are misguided but Usher may want to watch his step as Ne*Yo may be hot on his heels for the King of R&B title.
Celebrities Worldwide Rating: 8 out of 10
Click here to buy 'Ne*Yo - In My Own Words'
Reviews Archive