'In Her Shoes' DVD

Monday 20th March 2006
by Philip Ellwood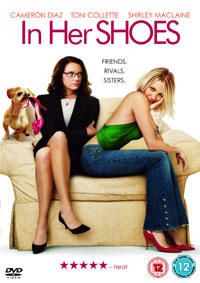 Every now and again you fancy a night in with a feel-good DVD and a tub of ice-cream. If you've not had one of those nights for a while then rejoice at the release of 'In Her Shoes', the perfect DVD for this sort of occasion. 'In Her Shoes' follows the story of sisters Maggie (Cameron Diaz) and Rose Feller (Toni Collette). Maggie and Rose couldn't be more different. Maggie is the ultimate good-time, party girl whereas Rose is the sensible, intelligent career-minded lawer. The only thing the sisters have in common is their shoe size, something that Maggie takes advantage of on a regular basis. Rose is unhappy with her looks and her general life direction and buys shoes for comfort. Maggie on the other hand is beautiful, has men falling at her feet, can't hold down a job and often resorts to stealing to fund her wild lifestyle.
After falling out with their step-mother, Maggie is forced to seek refuge with Rose but things turn from bad to worse when Maggie betrays Rose and the girls have a major fallout. Refusing to face up to her behaviour Maggie runs away and tracks down her grandmother (Shirley MacLaine), someone she had thought dead for many years, whilst Rose takes some time out to reassess her life and put things into perspective.
'In Her Shoes' is frequently hilarious, at times heartbreaking but ultimately feel-good. The story is one of family learning to reconnect and communicate with each other. The relationship between Maggie and Rose is typical of sisters. Underneath it all they love each other but on the surface they push each other to extremes.
Cameron Diaz's performance is a career-best. Her portrayal of wild child Maggie is superb. At times the character appears heartless but Diaz reminds us that Maggie is impossible to dislike. Despite all she puts Rose through you can't help but feel for her. Her carefree attitude is a front for the pain she feels inside for the loss of her mother as a youngster. Maggie didn't get the attention she needed as a child and as a result her wild behaviour is a cry for attention. There is a scene in the movie where you realise how desperate Maggie is for love and attention. She almost gets sexually assaulted due to her flirtation and naivety. Toni Collette also shines as Rose. The Australian actress puts in an emotional performance and you really feel for her after Maggie's betrayal. Collette is an incredibly versatile actress and her performance in this movie further cements her place on the Hollywood ladder.
The biggest surprise of 'In Her Shoes' is the director, Curtis Hanson. Hanson is best known for the incredible 'LA Confidential' and the Eminem vehicle '8 Mile'. Hanson seems a suprising choice of director for the movie but 'In Her Shoes' gives him the opportunity to prove his directing chops. Under his direction, what could have easily been a chick-flick, is actually an involving life drama which explores the intracies of family relationships. He gets fantastic performances from the cast and the end result if an entertaining and rich feel-good, comedy-drama.
The extras on the DVD provide extra value. The featurettes give you a quick glimpse into the making of the movie and the thoughts of the actors. There is also an alternate opening sequence and a hidden Easter Egg.
'In Her Shoes' succeeds on many levels. The movie has a relatively simple plot but the performaces from the cast and the direction from Hanson elevate the movie to 'must-see' territory. If there are any men reading this review, please don't dismiss it by it's title. This really is a movie that anyone can enjoy - it's not just for the girls.
Celebrities Worldwide Rating: 9 out of 10
Click here to buy 'In Her Shoes' on DVD


Reviews Archive