Phone Booth

Friday 24th March 2006
by Philip Ellwood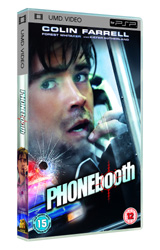 UMD's are the latest way to enjoy your favourite movie. The discs are only compatible, at present, with Sony's handheld PSP games console. The actual UMD is tiny, think the size of a mini-disc. 'Phone Booth' is the first UMD movie that I have seen and I have to say I was impressed.
'Phone Booth' follows the story of high-powered publicist Stu Shepard (Colin Farrell), who is trapped in a phone booth on the streets of New York by a sniper (Kiefer Sutherland). The anonymous sniper can see and hear everything Stu says and does and threatens to kill him unless he admits to his wife (Radha Mitchell) the selfish, immoral life that he leads. Whilst trapped in the phone booth Stu accidentally gets a pimp killed and soon has the police surrounding him. Stu must does as the sniper tells him and faces a race against time to prove his innocence and avoid being shot.
Colin Farrell is superb in the central role. His portrayal of Stu was without a doubt a breakthrough performance and subsequently allowed him to enter the Hollywood A-list. Backing Farrell is an all-star cast; Forest Whitaker, Katie Holmes, Radha Mitchell and of course Kiefer Sutherland. Sutherland is suitably creepy as the sniper. For the majority of the film the viewer only hears Sutherland's voice and his visual appearance is almost a walk-on cameo.
The UMD boasts a 'Making Of' featurette which provides a 30 minute in-depth look at the making of the movie. It really illustrates the challenge the cast and crew had to complete the filming of the movie in just 10 days.
The transfer to UMD is amazing. The picture quality is incredible and is so clear you can actually make out background details that are hard to see on a normal TV screen. I was amazed at how clear the picture was. It's better than the picture I can get from my digital set at home. The sound quality is great too. The movie sounds better through the headphones and I found it easier to lose myself in the movie.
'Phone Booth' is a taut, tense, edge-of-your-seat kind of thriller. It's hugely enjoyable and Farrell proves himself to be a more than capable leading man. If you fancy being on the edge of your train seat (like I was watching this movie) then 'Phone Booth' is the perfect choice.
Celebrities Worldwide Rating: 9 out of 10
Click here to buy 'Phone Booth' on UMD
Reviews Archive