Prince - '3121'

Monday 27th March 2006
by Philip Ellwood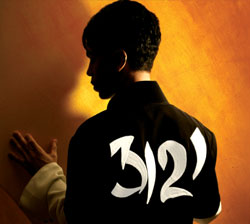 It wasn't too long ago that many had predicted the end for Prince. After his huge success in the 70's, 80's and early 90's many had written him off. This largely came about after Prince changed his name to a symbol, then to T.A.F.K.A.P (The Artist Formerly Known As Prince) and then eventually back to Prince. The name changing and a few underwhelming releases convinced many that Prince was past his best. In 2004 Prince began to make his comeback with 'Musicology'. Whilst not being as good as his early records, 'Musicology' was a return to form of sorts. The self-indulgence which plagued his work in the 90's was replaced with funk, beats and strong lyrics. '3121' is the next step in Prince's comeback and the album certainly is a return to form.
With '3121' it's safe to say that Prince has got his groove back. The album finds him in the mood to party and '3121' is a slick, funky party album. The album opens with title track, '3121', and kicks the CD off in style. For the most part the album is upbeat. First official single, 'Black Sweat', is the kind of song the Neptunes would have given their right arm to produce. The beat and production is slick and Prince's minimal vocals fit the song perfectly. 'Fury', 'Love' and 'Lolita' all manage to take Prince's 80s sound and adjust it to fit the 21st Century. The songs sound retro but at the same time incredibly fresh. The achingly beautiful 'Te Amo Corazon' slows the pace down but illustrates Prince's versatility as a vocalist as well as a producer.
Prince wrote, composed, produced and arranged the entire album; something that he has done for his entire career. The album is unmistakeably Prince and his jaw-dropping vocal abilities are still present. Aside from Mariah Carey, you would be hard pushed to name any other artist who can go from the lowest range to the highest note in the same sentence. Throughout the album, up-and-coming singer Tamar, provides backing vocals and even duets with Prince on album highlight 'Beautiful, Loved & Blessed' (incidentally the title of her debut album due out later this year). Her silky vocals complement Prince's incredible range and add another layer of quality to the overall sound of the record.
'3121' is a true return to form and should see Prince nearing his peak success once again. It seems he has found his way back to the funk and unique sound that made him a star in the first place. '3121' also serves as a reminder that many of today's hit artists owe more than a little credit to Prince for the sounds they pass off as their own.
Celebrities Worldwide Rating: 8.5 out of 10
Click here to buy 'Prince - 3121'
Reviews Archive