There's Something About Mary

Tuesday 28th March 2006
by Philip Ellwood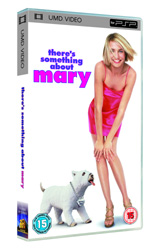 Unable to put his horrific prom experience with childhood sweetheart Mary Jensen (Cameron Diaz) behind him, Ted Stroehmann (Ben Stiller) decides to find her with the help of dodgy detective Pat Healy (Matt Dillon). Unfortunately for Ted, he's not the only man trying to win her affections and getting back into Mary's life isn't going to be quite as easy as he'd hoped.
Whether you've seen this movie or not, you'll undoubtedly recognise the infamous picture of Cameron Diaz fashioning a peculiar hair-do. This is one of the many hilarious jokes in the film. 'Mary' is a succession of cleverly judged one-liners, un-PC jokes, gross-out comedy and hilarious set pieces. The film is absolutely hilarious and there really isn't a dull moment. Mary's neighbour Magda (Lin Shaye) provides the biggest laughs and the scene where Magda is doing a spot of manic hoovering after mixing pills and alcohol is a classic.
Cameron Diaz and Ben Stiller turn in remarkable comedic performances in this movie. Diaz and Stiller became international stars after the success of 'Mary' and it's not hard to see why. The chemistry between the pair is electric. Great support comes from Lee Evans, Matt Dillon and Chris Elliott as the other men trying to woo Mary.
The transfer of 'Mary' to UMD doesn't lose any of the charm of the original movie. The film is just as enjoyable on your PSP as it has ever been on any other format. The UMD features a documentary for added value (worth watching for Lin Shaye's transformation to as she becomes Magda!).
'There's Something About Mary' is a fantastic film and I can't recommend it highly enough. I would go as far as to say that it's my favourite comedy movie of all-time. It's the first movie that I went to the cinema to see on two separate occasions. I laughed so hard the first time, I missed half of the film. If you've never seen this movie you should go out and get yourself a copy. An absolute classic.
Celebrities Worldwide Rating: 10 out of 10
Click here to buy 'There's Something About Mary' on UMD
Reviews Archive