Journey South - 'Journey South'

Thursday 30th March 2006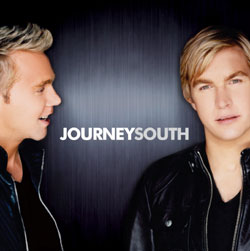 Journey South is the eponymous debut album from the two brothers Carl and Andy Pemberton, who gained a huge following since coming third to Andy Abraham and Shayne Ward in the last series of 'The X-Factor'. It features nine cover songs that their established fans will recognise and cherish as inspired from their best performances on the show, as well as two songs of their own composition.
This is the album the Pemberton brothers have dreamed about releasing for years. Don't let their meteoric rise to stardom fool you; they spent years learning and honing their crafts performing to tough audiences, and worked hard to finally achieve their well-earned "overnight" success! Their focus, talent and sheer enjoyment of fulfilling a lifetime's ambition really shines through every track of this beautiful album.
What I find so refreshing about Journey South is that they don't sound over-produced. The brothers' guitar playing and singing talents are allowed the space to shine through and carry what is a surprisingly acoustic album that sounds almost as if it could be made up from their often faultless live performances. This approach plays to Journey South's strengths, and should establish them as credible artists in their own right.
Their love of classic rock is well-represented, from a cover of arguably their finest television performance, "Let It Be", the Gospel backing singers adding an entirely original slant to the Beatles' original. The refinement of their singing voices make "The First Time Ever I Saw Your Face" and "Time After Time" memorable stand-out tracks. Fans of their stadium rock abilities will enjoy "I Still Haven't Found What I'm Looking For" and Weller's "English Rose".
The two tracks they have written themselves, "All of You", and "All That I Am", do not stand out from the classics, or sound out of place, and that is credit to their musical proficiency. My hope is that their debut will launch them on the music scene firmly enough for them to be able to release more of their own material in time. And judging by the incredible response already garnered from this number one selling album, further success for the brothers looks inevitable. In the meantime, they are basking in the glory of their richly deserved success with a UK tour. Let's hope these guys, discovered in the circus of reality TV, are around for years to come!
Celebrities Worldwide Rating: 8 out of 10
Click here to buy 'Journey South - Journey South'
Reviews Archive