David Gilmour – 'On An Island'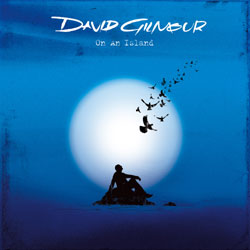 This is the new album from David Gilmour, the legendary former Pink Floyd guitarist. It is yet another wonderful achievement to his name at a time of life when he would be forgiven for resting on the laurels of his phenomenal past.
The album is immediately redolent of the glorious legacy of his inescapable Pink Floyd history; with an epic, emotional sound that matches the opening few minutes of the classic "Shine on You Crazy Diamond". With the opening track, "Castellorizon", Gilmour paints another of his trademark musical landscapes. The gentle sound effects lead in to his painfully emotional guitar solo to send the listener on an intensely private journey. The album promises the solitude of "On An Island" and delivers precisely that. It feels like an oddly personal experience hearing Gilmour's haunting music, especially when listened to through headphones to take in the full range and scale of sounds.
As a whole, the album is acutely sensitive and mellow, but at times deeply melancholy. It does not have the grand concepts, agendas, or explorations of the human psyche that ex-band mate Roger Waters always brought in force to the Pink Floyd albums. Depending on your point of view, that can be either a good or bad thing. Whilst their total contrasts in personality led to a highly creative but volatile relationship, here Gilmour is his own man, and the album is infused with his striking musical ability that lifted Pink Floyd to the level of greatness. There is no profound meaning to be found in the lyrics, but the depth of the music more than makes up for this. Notably, he has invited Richard Wright, the former Pink Floyd keyboardist, to join him on vocals for "The Blue", which also features Jools Holland on piano.
The guitar playing is as spectacular as you would expect, especially on "Take a Breath" and "A Pocketful of Stones". But he also performs a stunning saxophone solo on "Red Sky at Night", a heartbreakingly beautiful track suffused by an orchestral arrangement by Zbigniew Preisner, the Polish classical composer, who I believe is the most noteworthy of all the guest contributors to the album and whose work is featured on a few of the songs. "Requiem For My Friend" brought him worldwide acclaim in the late nineties, and he has since scored a number of movies. His contribution to "On an Island" is to lend it the richness of a full orchestral sound, where all the arrangements perfectly complement and never overshadow Gilmour's tone and vision.
Overall the album is gentle and heartfelt; it is moving but mellow, which could be listened to in order to unwind as much as for an emotional experience, depending on mood. It will appeal to fans of Gilmour, Pink Floyd, and anyone who enjoys musically brilliant and emotionally involving cross-genres. Indeed, it is an album that is difficult to categorise, but one with a coherent and confident sound. It is a stunningly created musical landscape and one to treasure. If Gilmour can maintain this standard of excellence it can only be hoped that there will be more to come from this great man.
Celebrities Worldwide Rating: 9 out of 10
Click here to buy David Gilmour - 'On An Island'
Reviews Archive