Ice Age

Friday 31st March 2006
By Philip Ellwood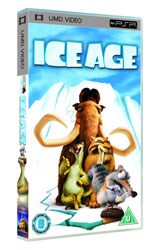 'Ice Age's' release on UMD is very timely, with the sequel about to impact on cinema screens for the Easter holidays. 'Ice Age' was a surprise hit when released in 2002 to much acclaim. Blue Sky Studios and Fox Animation Studios teamed up to take on rivals Pixar and DreamWorks; both studios had released high grossing digitally animated movies. The end result is an entertaining 90 minutes for the family to enjoy.
The story, unsurprisingly, takes place during the Ice Age and teams a sabertooth tiger (Denis Leary), a sloth (John Leguizamo) and a wooly mammoth (Ray Romano) on a quest to return a lost infant to his parents. The adventure the trio embark on takes them into extreme danger as they begin to question each other's loyalties and their relationships are stretched to their limit. Will Manfred, Sid and Diego be able to return the infant or will the sabertooth's that attacked his parents stop them?
'Ice Age' is a real treat for the kids. The story is laugh-out-loud funny, heartbreaking, emotional and exciting. Not a single minute of the films 90 minute running time is wasted. Behind the animation and the slapstick humour lies an important story about friendship and loyalty. The serious elements of 'Ice Age' are punctuated by the reoccurence of sabertooth squirrel Scrat, who is forever trying to protect a precious acorn. Scrat's attempts to keep his acorn safe are hilarious and the opening sequence of the movie is a classic.
The main thing that sets 'Ice Age' aside from it's contemporaries is the lack of crossover appeal to the adult audience. With a movie such as 'Shrek' there is a lot of hidden adult humour amongst the childish nature of the film, but with 'Ice Age' it is definitely more of a kid's film. Adults will still enjoy the movie (I know I did) and will enjoy the spectacular animated vision of the Ice Age.
The UMD contains a a few extra features which should keep adult viewers happy. There are some deleted scenes and a special short movie, 'Gone Nutty', which shows Scrat embark on another adventure to keep his precious acorn safe.
'Ice Age' is an enjoyable film and is an entertaining family movie. Scrat's scenes do steal the film and by the look of the trailer for the sequel the creators realise this. 'Ice Age' is a great way to spend 90 minutes on a Sunday afternoon.
Celebrities Worldwide Rating: 7 out of 10
Click here to buy 'Ice Age' on UMD
Reviews Archive