Cheaper By The Dozen 2

by Philip Ellwood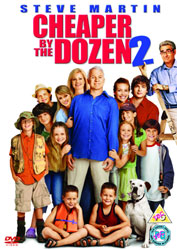 Steve Martin and Bonnie Hunt reunite for the sequel to 2003's box-office hit 'Cheaper By The Dozen'. The Baker family are back and father of the family, Tom (Steve Martin), decides to take the family on holiday for one last trip together before some of the older children leave the nest. What Tom doesn't realise is that his long-term rival, Jimmy Murtaugh (Eugene Levy), is vacationing in the same place and it doesn't take long before their old rivalry starts again pitting both families against each other.
The film is great fun for the family and provides many funny moments. Kids will definitely appreciate the movie more than adults, but it should still prove a big hit for all of the family. The cast is star-studded with great turns from Steve Martin, Bonnie Hunt, Eugene Levy and Carmen Electra. The supporting cast is strong with Tom Welling (TV's 'Smallville'), Hilary Duff, Jaime King and Piper Perabo as the older children from the rival families. Martin and Levy have great chemistry onscreen and are believable as enemies. It is often their attempts to outdo each other that provides the most laughs. I was most surprised by Carmen Electra who puts in a great performance as Jimmy Murtaugh's fourth wife.
The film's main problem is the enormous cast. With the Baker family consisting of 15 people and the Murtaugh family consisting of 10, it is hard for many of the characters to get much screen time. Hilary Duff and Tom Welling are very underused and it feels as if they are there purely for the star power. This is only a minor complaint however, as the film is hugely enjoyable and the kids who do get more screen time are fun to watch.
The DVD contains a moderate amount of extras. There is an audio commentary from director Adam Shankman and three featurettes that explore the making of the film. If you've ever wanted to see just how much work goes into directing a cast as big as this movie's then check out the 'Camp Chaos' featurette.
'Cheaper By The Dozen 2' isn't a classic, nor does it pretend to be. It does exactly what it says on the box. The film is an entertaining 90 minutes and is a surefire way of keeping the kids quiet when you want that weekend nap. Alternatively if you want a movie that you can watch on DVD with the family this is the movie for you.
Celebrities Worldwide Rating 6 out of 10
Click here to buy 'Cheaper By The Dozen 2' on DVD
Reviews Archive