Pink - 'I'm Not Dead'

Monday 3rd April 2006
by Philip Ellwood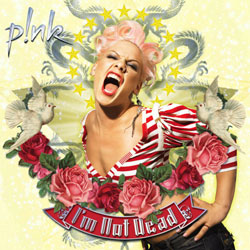 After a slight misfire with third album 'Try This', Pink is back with new album 'I'm Not Dead'. The title suggests that Pink is addressing that difficult third album which saw the outspoken pop star's fanbase dwindle and critics sharpen their claws. 'Try This' wasn't a bad album but Pink's determination to reinvent herself with every album seemed to have left fans a bit confused as to what kind of artist she really is. Debut album 'Can't Take Me Home' was a pure R&B record, second album 'Missundaztood' was a pop/rock record and third album 'Try This' was heavier rock.
I'm glad to say that 'I'm Not Dead' is somewhat a return to form for Pink. 'Try This' was a little too serious for it's own good so it's great to see Pink let her hair down and have a bit of fun on this record. The album opens with the smash hit single 'Stupid Girls', a song which pokes fun at the crop of blonde bimbo celebrities who clutter up the pages of every celebrity obsessed magazine. If you've seen the video you'll know exactly who Pink is ridiculing. 'Stupid Girls' is classic Pink. She has always had strong opinions and she's always been more than happy to voice them. This shines through on every track on the album. 'Long Way To Happy' is the kind of pop/rock song that Kelly Clarkson wishes she'd recorded, 'Cuz I Can' is a retro 80s-sounding track with a bizarre ice-cream chant and title track 'I'm Not Dead' is a pop/rock track destined to be a future single. Pink surprises on the bluesy 'The One That Got Away' and turns introspective on the heartbreaking 'Conversat ions With My 13 Year Old Self'.
Album highlight 'Dear Mr President' featuring the Indigo Girls is unlikely to win Pink any new US fans but it's refreshing to hear an American artist daring to criticise the President of the country. The track is a blatant attack on George Bush and Pink makes no apologies. It is when she is at her most raw and honest that Pink really shines. The track is stripped down and the Indigo Girls provide harmonies to what is, without a doubt, Pink's most personal track to date.
Over the album's 16 tracks (there is a hidden duet with Pink and her father at the end) Pink reaffirms her place in the industry. 'I'm Not Dead' is definitely more 'Missundaztood' than 'Try This' and could easily be considered her best work to date. Each song is a different style from the last and proves not only Pink's versatility but also her ability as a songwriter and producer. It feels like Pink has found her niche. In a music industry where artists are getting blander and blander, Pink should be celebrated. There is no one making pop as edgy or outspoken as Pink - long may she continue!
Celebrities Worldwide Rating 8 out of 10
Click here to buy 'Pink - I'm Not Dead'
Reviews Archive