'A Bit of Fry and Laurie' - Series 1

Thursday 6th April 2006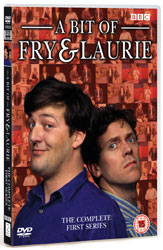 Stephen Fry and Hugh Laurie were one of the great comedy double acts of the twentieth century. Why it has taken so long for this absolute gem of a television series to see the light of day on DVD is beyond me, but thankfully, here we have the long-awaited arrival of Series One, plus the pilot episode. I hope the wait for Series Two to Four is not so long. Is a jam-packed complete series box-set release in time for Christmas too much to hope for?
It is difficult to believe Fry and Laurie were not always well-established on the entertainment map, as they are now both so much part of the establishment both sides of the Atlantic, but their successes did not always look so assured. It was a full two years between the pilot episode going out and the full first series being commissioned. Could it be that they received only a lukewarm reception to their expertly crafted sketches and "skitlets"? Could it be that Britain was not ready for the genius wits of these Cambridge-educated comedians?
It is a lot more likely that their left-wing bias and penchant for deriding Daily Mail readers got up the wrong noses at a time (the mid- to late-eighties) when Thatcher was still popular and very much in her pomp. You can see it right from the start, with sketches about the privatisation of the police force; and a moral high-ground parent who castigates a headmaster for teaching his son sex education instead of "standards". In fact, it is an ironic look at "standards" that is the recurrent source of satire throughout the first series.
Whereas firebrands such as Ben Elton were shouting their opposition to Thatcher at the time, Fry and Laurie's gentler, and altogether cleverer word-play comedy gave their satire far more potency. Despite the late-eighties feel to the series, and the now dated targets of satire such as the powerful executives who are executive working-breakfasting in the executive breakfast lounge; to the OTT sports and leisure centre brace-wearing businessmen forever outwitted by Marjorie, the series is still very, very funny. This is because it is superbly well-written by two of the brainiest and funniest men ever to have met who are also brilliant comedy performers. The fact that they bounce so marvellously off one another simply adds icing to this already delicious cake. It is easy to see how one of the most enduring and affectionate professional partnerships (Fry is godfather to Laurie's children) was created.
What we have is, in all honesty, a timeless comedy masterpiece, and the public start of a prolific and enduringly popular double act. Their sketches were entirely original, with never an attempt to have recurring characters with catchphrases for every episode (though some characters do reappear from time to time); and one of the highlights of each episode was Hugh Laurie's inevitable song, all the more entertaining because he is an extremely gifted musician and singer. One of the best is "Mystery", which he sings with great sincerity, but rhymes the last word of every verse with "mystery". Their comedy is vibrant and often intellectual, and feels every bit part of the English tradition as Wodehouse and Waugh. I believe people will still enjoy "A Bit of Fry and Laurie" fifty years from now and beyond. They really did reach that level of greatness.
It is sad that Stephen Fry and Hugh Laurie now consider themselves too old for the young man's game of sketch show comedy; as they would still be heads and shoulders above the competition and I'm sure find plenty of fresh targets to satirise in today's times. Indeed it is hard to believe eleven years have passed since the final series, but we are left with hours of comedy greatness to treasure. I live in hope that the duo will collaborate again in the not too distant future, though it is a joy to see them both so constantly in demand, and rightly so.
Celebrities Worldwide Rating: 10 out of 10
Click here to buy 'A Bit Of Fry & Laurie - Series 1' on DVD
Reviews Archive