Green Wing - Series 1

Tuesday 11th April 2006
by Philip Ellwood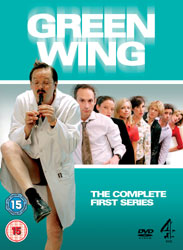 Once in a while a show comes along which manages to completely baffle you. 'Green Wing' is a perfect example of that kind of show. It's not a drama, it's definitely not a sketch show and to call it a comedy would be to sell it short. 'Green Wing' is genre defying and unusually for a comedy each episode is about 45 minutes long.
'Green Wing' follows Dr Caroline Todd (Tamsin Greig) as she begins her new job. Unbeknown to Caroline her future colleagues are a mixed bag of weird and wonderful characters. There is the frustrated genius, Dr Alan Statham (Mark Heap) who is having an affair with colleague Joanna Clore (Pippa Haywood), the sleazy would-be-womaniser Dr Guy Secretan (Stephen Mangan) and the dashingly handsome but rather frosty Dr 'Mac' Macartney (Julian Rhind-Tutt).
There is a lot to recommend about 'Green Wing'. The performances are fantastic. Tamsin Greig and Mark Heap are frequently hilarious and their comedic timing is impeccable. As the show progresses the characters actions become more and more random and the results become more hilarious. The various characters are often wasting time (and hospital equipment). One sequence in episode 4 sees two hospital staff using a CT scanner to find prizes in packets of crisps! Another nice touch is the inclusion of the girls who work for Joanna. They provide funny interludes - especially the one who is always talking about her kids. If you've ever worked in an office you'll appreciate the humour. The love affair between Joanna and Dr Statham borders on creepy but their chemistry is fantastic. Their scenes together had me in stitches.
The problem I have with 'Green Wing' is that sometimes it feels like it should be a 30 minute show. For the most part the episodes hit the spot but there are times the jokes fall a bit flat and you can't help feeling that a little bit of editing to cut the length down might have ironed these out. Another thing I found distracting is the cut sequences that vary in speed. It is a case of style gone crazy and I don't think the show needs them.
'Green Wing' is very funny when it hits the mark and it does hit more than it misses. The combination of strong writing and great performances ensure the show stands out from its contemporaries. The extras on the DVD boxset are a little disappointing but the show is so enjoyable it's not much of a complaint. If you haven't seen the show yet then do check out this boxset. Alternatively check out series 2, currently airing on Channel 4 - take my word for it, it's get more bizarrre!
Celebrities Worldwide Rating: 7 out of 10
Click here to buy 'Green Wing' Series 1 on DVD
Reviews Archive