'The Sims 2: Open For Business' - PC

Wednesday 19th April 2006
By Philip Ellwood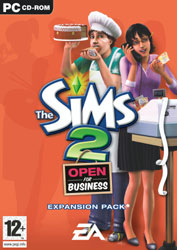 'The Sims 2: Open For Business' is the fourth expansion pack for the hugely successful PC game. For those who don't know about 'The Sims', I'll explain briefly. 'The Sims 2' allows you to create your own characters and neighbourhoods and control every aspect of your Sim's lives. You can choose their clothes, make them fall in love, break other Sim's hearts, start a family, move house and well, you can so pretty much whatever you like.
'Open For Business' follows the mini-expansion set, 'Christmas Party Pack', and allows gamers to send set up their own businesses and really make an impact with their career. In the original game you have to get your Sims a job to earn money to survive. This expansion pack takes that idea even further. Now you can assign a business centre to your existing town and your Sims can open their own businesses or work for a wider variety of companies. You can set up your own boutique, bakery, coffee shop and many other types of businesses. As is tradition with 'The Sims', the 'Open For Business' expansion offers a wealth of new things to explore and do. It makes the original game even more complex and enjoyable.
Once you've got your Sim employed, or set up your own business, you can race up the career ladder, fire and hire staff and generally be the ruthless boss you secretly always wanted to be. You can work in existing shops or start from scratch and completely build your own. The latter takes a lot of time but it's all worth it and you'll feel proud of your effort once you're running your own successful Sim empire. Alongside the work side of the expansion pack, 'Open For Business' provides your Sims with even mor einteractive features. My personal favourite is starting a row down at the local coffee bar by throwing a drink over someone for no reason. Even after doing it several times it still pushes me to hysterics.
'The Sims 2: Open For Business' is fantastic fun. If you're thinking about starting your own business it may be a good idea to treat this as a test course. You have to look after every aspect of your business if you want to thrive and be a success story. This expansion enriches the original game and extends the lifespan and enjoyability of the game. I'm already looking forward to the next one (whatever it may be). With 'University', 'Nightlife' and 'Christmas' expansions already available, it'll be interesting to see what EA Games have got up their sleeves.
Celebrities Worldwide Rating: 9 out of 10
Click here to buy 'The Sims 2: Open For Business' for PC
Reviews Archive