'The Family Stone' DVD

Wednesday 19th April 2006
By Philip Ellwood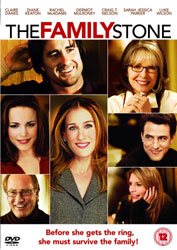 If you've ever had that first awkward meeting with your partner's family then you'll appreciate everything about 'The Family Stone'. Meredith (Sarah Jessica Parker) accompanies her boyfriend Everett (Dermot Mulroney) home at Christmas to meet his family. The Stone family aren't the most welcoming bunch and they already have their knives out for her before she sets foot through the door. Meredith's uptight personality clashes with the entire family and before long Meredith questions her place and her relationship. The Stone family are hiding a devastating secret which is less to do with Meredith than it is their own fears.
'The Family Stone' isn't the straightforward comedy I expected it to be. The film is incredibly funny at times but ultimately it is devastating. You begin to feel sorry for Meredith as she tries to fit in with the Stone family. Her desperation leads her to invite her sister Julie (Claire Danes) to the Christmas gathering but when she arrives things go from bad to worse. Without revealing too much the secret shared between Sybil (Diane Keaton) and Kelly Stone (Craig T Nelson), once revealed, is heartbreaking and it is this part of the film that provkes the most emotion.
I thought the film was fantastic. Sarah Jessica Parker and Diane Keaton both put in strong performances and the supporting cast do an incredible job. Rachel McAdams is perfect as the bitchy Amy Stone and Luke Wilson provides the comedy as Ben Stone. Sarah Jessica Parker well and truly puts her 'Sex and City' character behind her to play against type. She displays quite a range throughout the film and her character is easily the most sympathetic.
The DVD features a wealth of bonus material and really adds extra value to the package. The commentaries are funny and insightful and the several featurettes explore all aspects of the film.
If you like a good comedy/weepy I would highly recommend 'The Family Stone'. When it's not making you cringe and laugh, it's pulling on your heart strings. The ultimate aim of the film is to highlight how important family is. The Stone family are a tight-knit bunch and as Meredith finds it isn't easy to break-through.
Celebrities Worldwide Rating: 9 out of 10
Click here to buy 'The Family Stone' on DVD
Reviews Archive