Ray J - 'Radiation'

Thursday 20th April 2006
By Philip Ellwood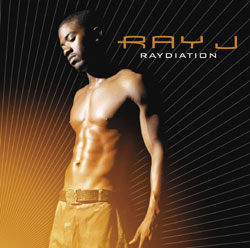 'Raydiation' is the new album by singer/songwriter/actor Ray J. For those who don't know Ray J yet, let me give you a little background information. Ray J is the younger brother of multi-platinum R&B singer/actress Brandy. 'Raydiation' is his third album and his first major release in the UK. The album comprises of 15 tracks and is an excellent showcase of Ray J's talent as a singer, songwriter and producer. Over the course of the album Ray J explores the R&B landscape and puts his own stamp on the genre.
First single 'One Wish', is a good indicator as to what Ray J is all about. His voice is full of emotion and he wrestles every last drip of emotion out of every word he sings. 'One Wish' is an achingly beautiful love ballad and the unique way Ray J sings the verses makes Usher seem lazy. At times Ray J sounds remarkably similar to his sister, who guests on album highlight 'The War Is Over'. When Brandy and Ray J duet (as they have done previously on a cover of Phil Collins' 'Another Day In Paradise'), it can be difficult to tell who's singing. This isn't a big problem as their voices work well together and the end result is magic.
Elsewhere on the album Ray J does uptembo club tracks ('Keep Sweatin' featuring Fat Joe), classic R&B ballads ('Let's Play House') and midtempo (next single 'What I Need'). My personal favourite is the uptempo, fiery duet with Mya, 'Sexy'. The track fuses two of R&B's best and has 'hit' written all over it. My fingers are crossed that this will be the third single from the album. I predict this could be the track to finally break him over here in the UK.
'Raydiation' is one of the best R&B albums I've heard this year. Each track changes the tempo and displays another side to Ray J's impressive talent. My only complaint would be that the album has a little too many ballads towards the end. Ray J is at his best with mid-tempo and uptempo tracks and it would have been nice to have a few more of these. Don't let this put you off though as 'Raydiation' is a confident and assured album that your friends are sure to want to borrow (and probably keep). Maybe Ray J will finally step out of Brandy's shadow once and for all.
Celebrities Worldwide Rating: 8 out of 10
Click here to buy 'Ray J - Raydiation'
Reviews Archive