Shayne Ward - 'Shayne Ward'

Monday 24th April 2006
By Philip Ellwood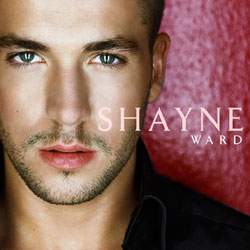 Despite being the winner of 'The X-Factor', Shayne Ward is the third contestant from the show to release an album. Following on from hugely successful albums from runners-up Journey South and Andy Abraham, Shayne has a huge amount of pressure to out-perform both. As I write this review, Shayne's album has just hit the number 1 spot and has sold over 200,000 copies in its first week. This easily out-sells Abraham's first week sales but falls a little short of Journey South's. Whichever way you look at it, Shayne sold more than 4 times as many copies of his album than original X-Factor winner Steve Brookstein did in the first week.
The sales from 'The X-Factor' contestants prove that interest in reality TV is still very high but is Shayne's album any good? Well to be honest it's a bit of a mixed bag. The album is almost entirely made up of ballads, something which came as a surprise to me. After thinking about it however, I realised that I shouldn't have been all that shocked - Shayne is after all being guided by the force behind serial balladeers Westlife, Mr Louis Walsh. Obviously Walsh is trying to market Ward to the same audience that buy Westlife albums and this could be seen as either a clever business move or an easy cash-in (depending on how you look at it). It's a shame that Shayne isn't allowed to spread his wings much on his debut album and this does a great injustice to him. His voice is often better than the material he is given and he doesn't have a truly spectacular moment amongst the album's 13 tracks.
The album opens with the mega-selling debut single 'That's My Goal' and continues with current single 'No Promises', which is a decent enough song but you can't help feel that it's similar to Daniel Bedingfield's 'If You're Not The One'. Elsewhere 'Stand By Me' is incredibly similar to 'Unchained Melody' and the two covers 'Back At One' (originally Brian McKnight) and 'All My Life' (Kaci & Jo Jo) are completely misguided. The track that shows most promise for Ward is the one and only upbeat number, 'Next To Me'. The track is a pure-pop number and more of what I expected from Shayne. During 'The X Factor' Shayne displayed a versatility and originality that doesn't quite show through on this album.
You have to admire Shayne for not releasing an entire album of covers. At least he's had a go at original material. Maybe the lack of diversity on the album is due to the short time allocated for Ward to actually record the album. 'Shayne Ward' isn't a bad debut. The album hints at a greater talent and maybe once 'The X-Factor' mania has died down, Ward will get the opportunity to prove what he is really made of. Louis Walsh promised us a talent to rival that of Robbie Williams and based on this album Williams need not worry just yet. Fingers crossed the second album from Ward will let him play with the kind of pop music he performed so enthusiastically during 'The X-Factor'. I'm confident there is a mega-star in there, it just needs to break way from the samey ballads in order to shine.
Celebrities Worldwide Rating: 6 out of 10
Click here to buy 'Shayne Ward - Shayne Ward'
Reviews Archive