Jamie Foxx - 'Unpredictable'

Monday 24th April 2006
By Philip Ellwood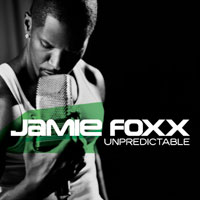 Jamie Foxx - actor, producer, comedian, singer...is there no end to this man's talent? 'Unpredictable' is not Foxx's debut album (he had an album in 1994 titled 'Peep This') but it is his first album since becoming an Oscar winning, mega-star across the world. Foxx has been warming up for his return to music with guest vocal spots on Twista's 'Slow Jamz' and the Kanye West hit 'Gold Digger'. With 'Unpredictable' Foxx returns to centre stage and let's Twista and Kanye guest on his tracks. If Foxx is to be believed he is the 'saviour' of R&B after years of what he labels 'bland' R&B releases. Is he right?
Well first things first, Foxx can sing. When I say he can sing, I mean he has the kind of classic, effortless R&B voice that recalls the greats. His vocal delivery is flawless and and his tone is incredibly silky and smooth. This suits the material on 'Unpredictable' like a glove. Rarely does the album move away from the subject of being intimate with women. Opening track and first single 'Unpredictable' is a mid-tempo, smooth jam featuring a guest rap from Ludacris. The single hasn't exactly set the charts on fire and it isn't the best track on the album. The song sounds a little R Kelly and has the kind of verse delivery that Usher introduced with his '8701' album. The strongest tracks on the album are the club joint 'Warm Bed', the Mary J Blige duet 'Love Changes' and the beautiful ballad 'Heaven'. One track I'm still undecided about is 'With You' featuring The Game and Snoop Dogg. The track relies on a loop of Foxx whistling and I can't quite decide whether it's genius or just plain irritating.
'Unpredictable' is an impressive album and is heavily influenced by the R&B and jazz greats. This is most evident on the Herbie Hancock sampling 'VIP'. Foxx has co-written 6 of the album's 16 tracks and is credited as executive producer on the album. As a musician Foxx is incredibly versatile. He sounds just as believable singing the earnest ballads as he does trying to seduce the ladies on the more up-tempo numbers. 'Unpredictable' is evidence that Foxx may be the person to give Usher a run for his money.
Saviour of R&B Foxx might not be, but 'Unpredictable' is a perfectly polished, classy affair. Foxx's vocal ability is certainly impressive and he can confidently call himself a musician alongside his many other career credits. The album is perfect to chill out to or play your next party. The album is perhaps a little overlong but that is only a minor complaint for such an enjoyable collection of songs.
Celebrities Worldwide Rating: 9 out of 10
Click here to buy 'Jamie Foxx - Unpredictable'
Reviews Archive