Snow Patrol – 'Eyes Open'

Tuesday 2nd May 2006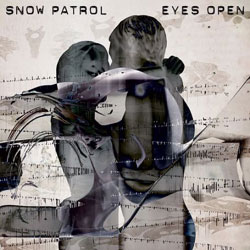 Believe it or not, "Eyes Open" is Snow Patrol's fourth studio album. It was only their previous release, "Final Straw" that really put them on the map with a beautifully crafted and thoughtful album, which has gone on to sell almost one and a half million copies.
So have they been able to build on their success and follow it up with an album at least as good? I would say they have succeeded on every level. "Eyes Open" is their boldest and best album so far. The sound is lucid and beautifully structured. The album is a breathtaking landscape of sound. The gentle vocals and mature melodies are electrifying.
The first song (and single) "You're All I Have" is perfectly pitched to grab your attention straight away. It's a catchy number and sounds distinctively Snow Patrol, giving you some indication of the rest of the album to come.
Another standout track is "Chasing Cars"; a heartfelt, aching, epic piece that must sound mind-blowing performed live. It perfectly encapsulates the sentiment of the song. Anyone who has ever asked "If I just lay here / would you lie with me / and just forget the world?" will find special meaning with this song. Only "You Could be Happy" is more moving. It is a poignant end of relationship song, and the biggest tear-jerker on the album.
Fans of Martha Wainwright will be pleased by "Set the Fire to the Third Bar", which features her on guest vocals, in a heart-rending duet with front man Gary Lightbody.
Each song leads naturally into the next one, lending the album a coherence that makes it best enjoyed by listening straight through. The sound is both epic and ethereal, from the grand rock of "Make This Go on Forever" to the tender "Chasing Cars" that do not seem out of place on the same album. Listening to "Eyes Open" in one sitting is a very rewarding experience, and it is sure to make a good impression on the charts. With a sell out UK tour coming up, this is a band in their pomp who will keep going from strength to strength.
Celebrities Worldwide Rating: 9 out of 10
Click here to buy 'Snow Patrol - Eyes Open'
Reviews Archive