'Cybill - Season 1' DVD

Monday 8th May 2006
By Philip Ellwood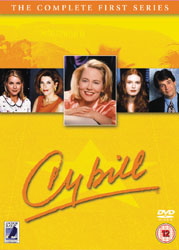 'Cybill - Season 1' has finally come to DVD, 11 years after it debuted on the small screen. 'Cybill' was designed as a vehicle for much-loved actress Cybill Shepherd in the mid 90's. The series sees Cybill playing Cybill Sheridan, an ageing actress battling to find work in an industry where youth is preferable to talent. With the aid of her good friend Maryann Thorpe (Christine Baranski), Cybill searches for satisfaction and stability in her family and career.
I remember when 'Cybill' first hit the airwaves back in 1995. I found the series witty, expertly played out and frequently hilarious. I'm pleased to say that watching it 11 years on, 'Cybill' hasn't lost any of that. The show has aged well and the jokes are still hilarious. The main premise of the show remains relevant today. Each episode begins with Cybill in her latest acting job and as the series progresses Cybill's jobs get increasingly more pathetic. The pilot episode, 'Virgin, Mother, Crone', sees Cybill struggling to take her role in a low budget horror movie seriously and she gets warned by the director that they would have preferred a 'younger actress'.
Alongside Cybill's career struggles she must deal with her daughters, stroppy Zoey (Alicia Witt) and uptight Rachel (Dedee Pfeiffer), and her two ex-husbands Ira (Alan Rosenberg) and Jeff ('Dukes Of Hazzard' star Tom Wopat). Cybill is helped along the way by her incredibly bitter, divorced friend Maryann. Maryann frequently enlists Cybill's help to exact revenge on her husband Richard, who left her for a younger woman.
The key to Cybill's appeal is the combination of Shepherd and Baranski. When the pair are on the screen together the results are comedy magic. In 'How Can I Call You My Ex-Husband If You Won't Go Away?' there is a fantastic scene where Cybill flees to Maryann's to get advice about her ex-husbands and the pair end up prank calling Maryann's ex-husband. This is one of many exampes of the duo's chemistry. You can tell how much fun Shepherd and Baranski had filming the show as they frequently burst into real laughter.
'Cybill - Season 1' is proof that Cybill was one of the best comedies of its decade. Shepherd was nominated for a variety of awards for her performance in 'Cybill' and it's not hard to understand why. She is consistently loveable and her comedic timing is impeccable. Watching the show again was a wonderful trip down memory lane.
Celebrities Worldwide Rating: 9 out of 10
Click here to by 'Cybill - Season 1' on DVD
Reviews Archive