'The Twilight Zone' - Season 3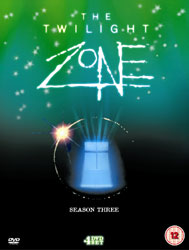 'The Twilight Zone' is something of a cult. The show has been around for so long that most people will have been aware of it for as long as they can remember. If ever something slightly out of the ordinary happens, you can guarantee that some nearby wag will hum the evocative theme tune and say "Spooky"!
This series is not from the original 1959 to 1964 run, nor indeed from the recent 2002 version, but the third and final series of the late 1980s revival (presumably spurred on by the success of the 1983 movie which contains a fantastic and memorable sequence with John Lithgow on a plane in a storm, scared out of his wits as the only traveller who can see a gremlin ripping apart the wing outside). Indeed, as evidenced by the constant resurrections, this show is vintage American television, an undoubted classic, and indelibly branded into the transatlantic psyche.
This 1988-89 series is as quirky as you would expect. The episodic structure of tight twenty-minute episodes means that the stories do not outstay their welcome. The standard, but almost infinitely variable format is to present a character in a real life situation, into which comes a fantasy twist, where their ordinary life is touched by 'the Twilight Zone', for better or worse. Some of the stories are creepy, such as 'The Crossing', in which a priest is tortured by memories of a car crash years before; others life-affirming and feel-good, notably 'The Trunk', where an unlucky hotel manager suddenly realises he can get anything he has ever wanted. There is often a convincing and enjoyable twist at the end of the tale, which the further you get into the series, the more fun you can have trying to guess.
Every episode presents the viewer with new characters and a new situation. The only regular cast member is Robin Ward, the omnipresent and omniscient narrator, whose newsreader's tone brings gravitas and authority to often bizarre tales.
Despite being almost twenty years old, the series is dated mostly by changing fashions and technologies. The production standards are very high, and whilst some special effects may look cheap by today's standards, you can bet that they were cutting edge at the time. Like a lot of American television, a lot of money was spent on the series making it look good, and it is visually pleasing and well-directed.
As you may expect from a show that's different every week, some episodes are stronger than others. Of particular note are 'Rendezvous In A Dark Place', which features the late Janet Leigh as an elderly widow who meets the messenger of Death; 'Something In The Walls', a creepy tale in which a terrified woman is hospitalized when she claims to see faces hiding in patterns and cracks in the walls that's redolent of a Roman Polanski film; and 'Room 2426', guest starring Dean Stockwell, which is unusually set in a futurist state-controlled society.
Overall, this series is great fun and hugely entertaining, and the standalone episodes mean you can dip in and out at your leisure, and select ones to suit your mood on the second viewing. It is definitely worth a look. If you remember if from its initial broadcast, you will be sure to enjoy revisiting 'The Twilight Zone'.
Celebrities Worldwide Rating: 8 out of 10
Click here to buy 'The Twilight Zone - Season 3' on DVD
Reviews Archive