Matt Willis - 'Up All Night'

Tuesday 9th May 2006
By Philip Ellwood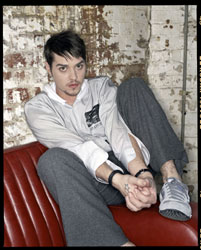 Matt Willis aka Matt Jay, is the last member of the now defunct Busted to try his hand at a new project. Former bandmate Charlie Simpson left the group to pursue his dreams of being a rockstar and James Bourne formed a new group, Son Of Dork. Willis has been in the news more recently for his personal troubles rather than his music but he is making his way back to the music scene with his debut solo outing.
Before listening to 'Up All Night' I was a little bit worried about what was about to assault my ears. Many in the industry are labelling Willis as the next Robbie Williams but the cynic in me has heard these proclamations before about other boy band members attempting to go solo.
'Up All Night' is an up-tempo rock/pop number that sees Willis moving away from his faux American accent he used in Busted and finding his own voice. Willis' voice has a surprising role and he can really pull off the rock growls demanded by the song. The track is destined to appeal to fans of his old band but it should also sit well with an older audience. The track is mature and I can already envision hearing it pumping out of many cars over the summer.
Willis has done good on his debut outing. His track is infinitely better than either of his former bandmate's efforts thus far. It just remains to be seen whether Willis is a one-trick pony or whether he can actually pull off an amazing Robbie like career. Based on this single, Willis' future looks bright. Let's hope he doesn't ruin it by going all serious just yet.
Celebrities Worldwide Rating: 8 out of 10
Click here to buy 'Matt Willis - Up All Night'
Reviews Archive