Just Friends

Monday May 15th 2006
By Philip Ellwood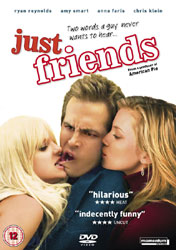 'Just Friends' is the one thing you never want to hear from the person you have fallen in love with. Chris Brander (Ryan Reynolds) is overweight, universally ridiculed and in love with his best friend Jamie Palamino (Amy Smart). After an embarrassing situation at Jamie's surprise graduation party, Chris leaves his hometown for a new life in LA. He sheds the weight, gets a top music executive job and becomes a womaniser. No matter what he does Chris can't get Jamie out of his mind. Ten years after fleeing home, Chris embarks on a promotional trip with his latest client, air-head wannabe singer Samantha James (Anna Faris). On the way to Paris a freak accident on the plane forces them to land - unfortunately for Chris it's in his hometown and he must finally face up to his feelings for Jamie. Will he finally tell her how he feels?
'Just Friends' is a romantic comedy with it's heart in the right place. The movie is by no-means ground-breaking but it is very entertaining. Ryan Reynolds uses his impeccable comedic timing and slapstick abilities perfectly in the lead role of Chris. Reynolds is well-known in the US for his comedy roles, until recently when he went serious in the remake of the horror classic 'The Amityville Horror', and he is a gifted comedian. For me though the standout performance in the movie was Anna Faris' portrayal of Samantha James. Faris is best know for the 'Scary Movie' series but she has popped up in several high-profile films recently ('Brokeback Mountain' and 'Lost In Translation' being two of them). Whenever Faris is on the screen, I'm in stitches. Her performance is so crazy, deranged and entertaining. My favourite scene is when Samantha showcases her new song 'Forgiveness' to a bewildered Chris on the plane to Paris. Faris and Reynolds work well together, so well in fact that they have a new film coming to cinemas soon ('Waiting').
On the negative side, 'Just Friends' never manages to mantain it's comedic consistency. The film begins to descend into schmaltz and the storyline is fairly predicatable. It would have been nice to see the story break away from the its genre conventions but unfortunately this doesn't happen. That's not to say that 'Just Friends' isn't worth watching because it most definitely is.
'Just Friends' is an enjoyable romantic comedy. Reynolds and Faris are a dream pairing and with a more solid story the duo could be on to a winner. As it stands 'Just Friends' is the kind of movie you could spend 90 minutes enjoying with friends on a lazy Sunday afternoon. If you want to put your brain in neutral and just be entertained then 'Just Friends' is an ideal movie. Fans of Reynolds' previous movies will lap this up. Anyone wanting proof that Faris can break away from her Cindy Campbell character in the 'Scary Movie' series should check out this movie.
Celebrities Worldwide Rating: 7 out of 10
Click here to buy 'Just Friends' on DVD
Reviews Archive