Sons Of Jim - 'My Burning Sun'

Monday 15th May 2006
By Philip Ellwood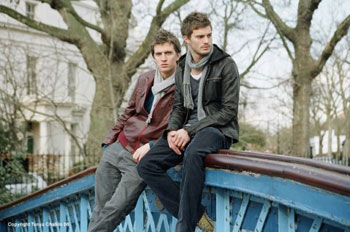 Image copyright of Tanya Chalkin 2006 - www.tanyachalkin.com
Chances are you're reading this review without a clue who Sons Of Jim are. You're probably not alone but believe me when I say you'll know who these guys are soon enough. In fact you'll already recognise one of them. Jamie Dornan, ex-boyfriend of Keira Knightley and impossibly beautiful model, is the lead singer and one-half of the band. Dornan is joined by friend David Alexander and together the pair make up the acoustic duo Sons Of Jim.
'My Burning Sun' is the group's latest single and it's a punchy acoustic number with an impressive vocal from Dornan. The track is a summery pop-track driven by an acoustic guitar and a clapping beat. Alexander plays guitar on the track and provides the harmony vocal. The duo's voices work really well together and suit the track like a glove. The second track on the single 'Don't Throw Your Love Away' is less commercial than 'My Burning Sun'. The track feels a raw and is stripped down to a basic beat and a guitar melody. The track highlights the group's folk influences and is a complete contrast to 'My Burning Sun'.
Based on the material on this single, Sons Of Jim have a bright future ahead of them. The duo are currently doing small gigs around the country but it shouldn't be too long before they move onto bigger and better things. Dornan shows that he is just as good a singer as he is a model and I look forward to hearing a lot more from Sons Of Jim.
Celebrities Worldwide Rating: 9 out of 10
Click here to buy 'Sons Of Jim - My Burning Son'
Reviews Archive