Christina Milian - 'So Amazin'

Monday 22nd May 2006
By Philip Ellwood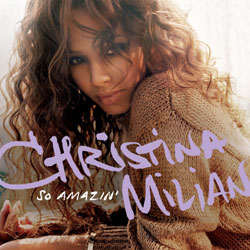 After taking a break from music to make some movies, Christina Milian is back with her third album, 'So Amazin' the follow-up to 2004's 'It's About Time'. Since she launched onto the music scene in 2001, Milian has continually reinvented herself, as she grows older and wiser. Her self-titled debut album saw Milian take on a pop sound with an R&B twist. Her second album, 'It's About Time', saw her explore her R&B influences further and allowed Milian to reinvent her image as a young R&B siren. With third album, 'So Amazin', Milian has almost ditched the pop and has moved even further into R&B territory by employing top producers Cool and Dre.
'So Amazin' is a brave thing to call your album, especially when said album doesn't quite fulfil its promise. Opening track 'Say I' featuring Young Jeezy is the album's strongest cut. It's an upbeat, funky track about believing in yourself and it's clear why Milian chose to release this as the album's introductory single. Unfortunately after the first track the album begins to falter. It's not that the music is bad or that Milian isn't appealing but has more to do with the fact that some of the songs begin to sound the same. Milian has chosen to dominate the album with mid-tempo tracks. Perhaps Milian is trying to prove she's grown up with this album. Her voice sounds as sultry as ever and the mid-tempo does suit her vocal.
After a slew of slow tracks the album picks up pace again with 'So Amazing' and 'Hot Boy', the album's only other uptempo tracks. 'So Amazing' is a shout and call song with producer Dre answering to Milian's calls. 'Hot Boy' is a strange track with a robotic voice and a rather irritating 'Errr' sound randomly placed throughout the chorus. Potential single tracks are the funky 'My Luvin' Goes' and the sexy 'Who's Gonna Ride?' featuring the Three 6 Mafia.
'So Amazin' could have been truly amazing if only Milian had cut back on the mid-tempo and spiced the album up with a bit of variety. When she gets the formula right as with previous singles 'Dip It Low', 'Whatever U Want' and 'When You Look At Me', Milian is a force to be reckoned with. Unless she raises her game she isn't going to shake off the Beyonce comparisons. Milian is a talented all-rounder and this album just doesn't showcase that adequately. It is admirable that Milian hasn't done what so many of her contemporaries do by singing about the material aspects of her life. 'So Amazin' is surprisingly bling-free which is refreshing.
Milian has a truly fantastic album in her somewhere and hopefully that will surface sooner rather than later. 'So Amazin' should keep her fans happy until her next album but Milian really needs to have stronger material than this to remain in the industry as a singer.
Celebrities Worldwide Rating: 6 out of 10
Click here to buy 'Christina Milian - So Amazin'
Reviews Archive