Nerina Pallot - 'Fires'

Monday 22nd May 2006
By Philip Ellwood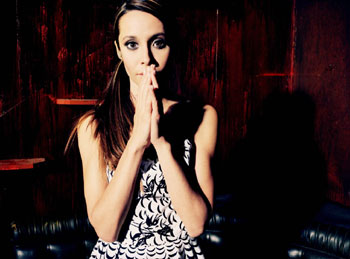 Nerina Pallot is finally getting the critical acclaim she deserves. 'Fires' is Pallot's second album and is currently enjoying success upon its second release. 'Fires' was originally released on Pallot's own label Idaho and has now been re-released on 14th Floor Records, giving it the promotional push it deserves. Pallot released her debut album, 'Dear Frustrated Superstar', in 2001 and after two singles (the fantastic 'Patience' and 'Alien') Pallot was dropped by her label and disappeared off the face of the earth for a while. Her comeback is timed nicely with the emergence of female singer/songwriters such as KT Tunstall and Katie Melua who are enjoying massive commercial success.
'Fires' is a confident, intelligent and irresistible collection of 11 songs. The set opens with the current single 'Everybody's Gone To War', a song which questions the reason behind fighting in the world's wars. Pallot's lyrics strike a chord when she sings 'Don't tell me it's a worthy cause/No cause could be so worthy'. Rarely does a song resonate so truly. Pallot has a gift for songwriting that I haven't experienced in a while. All of her songs are relatable. The deeply personal lyrics stir up feelings that many songs do not get near. Over the album's 11 songs the listener is taken on an emotional journey. 'Damascus' is the album's most beautiful moment. Pallot's voice evokes the pain and frustration of her lyrics and you feel like you're experiencing the same things as she is. 'Oh it's over/And everything is wrong, everything has gone' Pallot sings against a moody piano background and you can't help but feel that you know exactly what she means. Elsewhere on the album 'Idaho' addresses the need to break free and be yourself, 'Mr King' deals with the feeling of uncertainty and album closer 'Nickindia' addresses what happens after death. The recurring theme throughout the album is war and fighting, which are mentioned in one way or another in every song.
Pallot's voice is incredible. If you imagine a mix between Tori Amos and Fiona Apple with a hint of Kate Bush you are almost close to how beautiful Pallot's voice is. She effortlessly switches from low to high notes and captures every mood and every feeling in her lyrics. 'Sophia' is the perfect showcase for Pallot's voice. The song is a stripped down track and pitches Pallot's vocals against a sparse piano. The results are amazing.
'Fires' is beautifully crafted and melts Pallot's classical training perfectly with her confident songwriting and vocal ability. If you are reading this expecting 'Fires' to be of a similar nature to other female singer/songwriters (Lucie Silvas, KT Tunstall etc) then you would be wrong. Pallot has something that raises her above her contemporaries. She is a special talent and hopefully she can help inject some credibility back into the UK music scene. Pallot breathes a much-needed lease of life into the songwriter genre and could prove to be one of our best exports.
Celebrities Worldwide Rating: 9 out of 10
Click here to buy 'Nerina Pallot's - Fires'
Reviews Archive