Ferris Bueller's Day Off - Bueller...Bueller...Edition

Wednesday 31st May 2006
By Philip Ellwood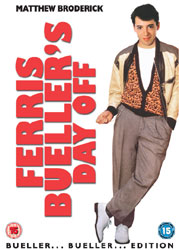 Every once in a while a film comes along that defines its genre for a generation. In the 90's 'American Pie' did just that for teen movies but a decade earlier 'Ferris Bueller's Day Off' set the standard for the entire teen genre. The film follows Ferris (Matthew Broderick) as he fakes illness to avoid going to school. After fooling his parents, Ferris persuades his friend Cameron (Alan Ruck) and girlfriend Sloane (Mia Sara) to join him as he romps through Chicago making the most of his day off. Unfortunately for Ferris his interferring sister Jeanie (a pre-Dirty Dancing Jennifer Grey) and his school principal Mr Rooney (Jeffrey Jones) are determined to catch him bunking off. What unfolds after that is a fast-paced, hilarious comedy with a great ensemble cast.
'Ferris' made an instant star of a then relatively unknown Matthew Broderick. His performance is a tour-de-force and Broderick displays a fantastic range. He is charismatic and confident without ever being smug and he really manages to convince you to root for him. Throughout the film you never want Ferris to get caught and in many ways you begin to
admire his guts. There is a lot of enjoyment to be gained from watching Ferris' sister Jeanie suffering. There is a fantastic scene when Jeanie returns home and is convinced she is going to catch Ferris out, only to be surprised by Mr Rooney who has broken into the house with the same intention. The scene is a classic and always has me in stitches.
The 'Bueller...Bueller...Edition' DVD contains a wealth of extras. 'Getting The Class Together' is a fantastic featurette containing new interviews with many of the key cast members from the movie. It's interesting to see what the cast look like 20 years on. The extras also include unseen footage from behind-the-scenes and a making-of featurette.
'Ferris Bueller's Day Off' is a movie that everyone should see. Anyone who has ever bunked off school or wanted to will be able to engage with the storyline. When Ferris has his epiphany at the beginning of the movie and realises that 'life moves pretty fast' you can't help but agree with him. There is a part of Ferris in us all but rarely do we embrace it. If you've never seen this movie then you absolutely must see it. Fans of 'Ferris' will adore the ''Bueller...Bueller...Edition'. Go on, embrace your inner Ferris and enjoy this movie over and over again!
Celebrities Worldwide Rating: 9 out of 10
Click here to buy 'Ferris Bueller's Day Off - Bueller...Bueller...Edition' on DVD
Reviews Archive