Duncan James - 'Sooner Or Later'

Friday 2nd June 2006
By Philip Ellwood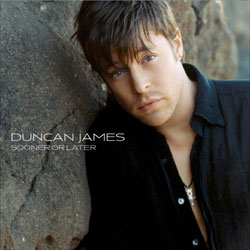 When Blue disbanded everyone earmarked Lee Ryan as the obvious solo star. When Ryan released his self-titled solo album in 2005, it got off to a great start entering the higher reaches of the Top 10. Unfortunately it didn't stay for too long and disappeared into the chart abyss. Simon Webbe was next up and his success has proven him to be the dark horse of the band. His debut album 'Sanctuary' has had impressive sales and marks him as the band's most successful member. Antony Costa's solo attempt came next. One single and a failed Eurovision bid saw the beginning and the end of his solo career in a matter of months. After such varied experiences by his former bandmates, Duncan James has decided to see if he can prove his solo worth.
'Sooner Or Later' is actually Duncan's second release without his former bandmates (he released the duet 'I Believe My Heart' with classical artist Keedie, which entered the charts at number 2 in 2004), but it's his first solo single proper. The track is a light, summery radio-friendly number. The chorus is catchy and Duncan's vocal ability really shines through. 'Sooner Or Later' is a sensible release for a first release. The song is bound to appeal to the Blue fans and it should help Duncan win over some new fans in the process.
The accompanying video is as expected with Duncan smouldering across the screen infront of sun-drenched settings. It doesn't use visual trickery like many music videos and relies solely on Duncan's charm to carry it off - which he does with ease!
'Sooner Or Later' is a promising start for Duncan's solo career. It remains to be seen whether or not he can forge a lasting career and be the success story of his former band. Based on this track Duncan's playing his cards right and producing good old-fashioned power pop.
'Sooner Or Later' is released on 5th June 2006.
'Future Past' is released on 12th June 2006.
Celebrities Worldwide Rating: 8 out of 10
Click here to buy 'Duncan James - Sooner Or Later'
Reviews Archive