Jewel - 'Goodbye Alice In Wonderland'

Monday 5th June 2006
By Philip Ellwood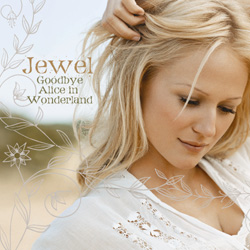 Jewel returns to the music scene with her fifth studio album, 'Goodbye Alice In Wonderland', which sees the singer/songwriter return to her folky roots. In 2003 Jewel changed musical direction with her '0304' album and embraced pop and dance music. Despite opening at number 2 on the Billboard charts, '0304' became Jewel's worst perfoming album to date. Fans didn't welcome the change in direction and critics decided Jewel was trying to steal Britney Spears' crown. In reality '0304' was a clever, cynical album that poked fun at the pop world. Unfortunately Jewel's sarcastic, self-deprecatin approach became lost in translation and '0304' was underappreciated. Perhaps realising this Jewel has returned to what she does best on 'Goodbye Alice In Wonderland'. The guitar takes centre stage and the music is stripped back.
'Goodbye Alice In Wonderland' consists of 13 tracks, most of which Jewel has performed on tour for years. The album opens with first single 'Again and Again', a song which Jewel refers to as 'You Were Meant For Me' part 2. It's easy to see whay. 'You Were Meant For Me' is Jewel's most successful single and 'Again and Again' is from a similar mould. The song is a radio-friendly lament on the breakdown of a relationship. Highlights on the album include the autobiographical title track 'Goodbye Alice In Wonderland', the heartbreaking album closer '1000 Miles Away' and the country-tinged 'Last Dance Rodeo'. For me, '1000 Miles Away' could be Jewel's best vocal performance on any of her albums. The song has been performed by Jewel for years and appears on the album in its original form. The song showcases Jewel's strength as a writer and depth as a singer. Her voice moves you through a variety of emotions. She packs incredible feeling into her performance and her vocal on '1000 Miles Away' will take your breath away.
This album is Jewel's most personal since her multi-platinum debut 'Pieces Of You'. The title track explores Jewel's rise to fame and struggle with the world of celebrity. 'Fame is filled with spolied children' Jewel sings, a statement that brings a selection of celebrities to mind. 'Stephenville, TX' is another deeply personal song, documenting Jewel's blossoming relationship with cowboy boyfriend Ty Murray. Some critics have labelled Jewel's personal songs as 'precious' but I think it marks an incredibly rare trait of honesty in a songwriter.
The album's 13 tracks were purposely sequenced by Jewel to tell the listener a story. This ensures the record plays almost seamlessly. The only track that does not fit in with the set is 'Satellite'. It's not that 'Satellite' is a bad track but more to do with Jewel's decision to turn a once simplistic acoustic number into a speedy pop song. It just doesn't feel right. Perhaps I'm so familiar with the original that I'm not giving the revised version a fair chance.
'Goodbye Alice In Wonderland' should bring back fans who felt that Jewel sold-out with '0304'. The album is yet another expertly crafted collection of personal songs. Jewel sounds confident and relaxed and her return to acoustic driven music is a welcome one. Jewel explores a variety of styles on the album and injects her personality into each. 'Goodbye Alice In Wonderland' is an incredible record.
Celebrities Worldwide Rating: 10 out of 10
Click here to buy 'Jewel - Goodbye Alice In Wonderland'
Reviews Archive