The Wreckers - 'Stand Still, Look Pretty'

Monday 5th June 2006
By Philip Ellwood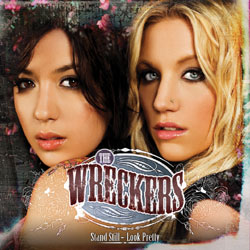 After the release of her second album, 'Hotel Paper', Michelle Branch posted a now infamous rant on her message board. Said rant criticised the music industry and Branch attacked people in the industry that control and suppress artists. Shortly after Branch announced she was forming a band with her long-time friend (and sometime backing vocalist) Jessica Harp. The duo were to be known as 'The Wreckers' and Branch declared that they would be controlling the creative process this time around. A track from the duo, 'The Good Kind', found its way onto the soundtrack of popular US teen drama 'One Tree Hill' in 2005 and now the debut album 'Stand Still, Look Pretty' finally sees its release.
The best way to describe 'Stand Still, Look Pretty' is pop music with a country twist. Some of the tracks on the album (most notably 'Lay Me Down') take a similar sound to Branch's solo output. Album opener and debut single 'Leave The Pieces' is a great introduction to the Wreckers. The track is a 3 minute country-tinged pop song. Branch and Harp share vocal duties and at times it's difficult to tell which girl is actually singing. The girls have stated that comments from fans and friends about their vocal similarities led to the formation of the duo. After repeated listens you can identify Harp's voice as she has more of a country sound and her voice is slightly deeper than Branch's. When the girls harmonise the result is beautiful. Their voices complement each other perfectly.
Branch and Harp are credited as writing or co-writing every track on the album aside from two. Interestingly Harp has more solo writing credits than Branch. The duo have a knack for writing intelligent, catchy songs. The album closer, 'Crazy People', is a perfect example. The song is very tongue-in-cheek with lyrics such as 'Only crazy people fall in love with me/They come from all over to be with me'. 'Crazy People' is one of the album's many highlights. Other's include the Branch penned rock track 'Rain', the pure country 'My, Oh My' and the beautiful ballad 'One More Girl'.
'Stand Still, Look Pretty' is a confident debut album from the Wreckers. There isn't a single bad track amongst the collection. Branch and Harp are at their best when harmonising. Their voices demand attention. It will be interesting to see if either girl returns to their solo career. If they do, I hope it doesn't signal the end for the Wreckers. Their brand of country-pop would be sorely missed.
Celebrities Worldwide Rating: 9 out of 10
Click here to buy 'The Wreckers - Stand Still, Look Pretty'
Reviews Archive