Oakenfold - 'A Lively Mind'

By Philip Ellwood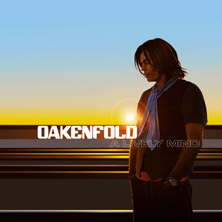 Oakenfold is without a doubt one of the world's most prolific DJ's. His music flies the flag for dance music in an industry where dance has been struggling to be heard in the mainstream charts. This provides a stark contrast to the 90's when dance music was massively popular and the charts were filled with the genre. It's been 4 years since Oakenfold's last album 'Bunkka'. The album was Oakenfold's first artist album and saw the DJ collaborating with a variety of artists. 'A Lively Mind' has a similar concept and is Oakenfold's second artist album.
'A Lively Mind' opens with the first single 'Fast Kill Pussycat' featuring vocals from actress Brittany Murphy. Murphy seems an odd choice for the single seeing as she isn't really known as a singer. This works well for the track. Murphy has apowerful voice and more than holds her own over Oakenfold's dirty dance beats. The song is pure dance-pop and Murphy's contribution ensures the track will be a huge hit. 'Faster Kill Pussycat' is the definite standout track on the album and gets better with every listen.
Only one of the album's 12 tracks is a pure dance instrumentals ('Amsterdam'), the rest all feature vocals by guest artists. Oakenfold employs the talents of one of his new signings, Spitfire, on two of the tracks ('No Compromise' and album closer 'Feed Your Mind'). Spitfire's voice provides a rock edge to the dance beats helping Oakenfold further blur musical genres. Highlights on the album include the ballad 'The Way I Feel' featuring vocals from Ryan Tedder and the dance meets urban sound of 'Sex'n'Money' featuring the always fantastic Pharrell Williams.
It's actually refreshing to hear a good solid dance album. The crossover potential is very high and many of the tracks on 'A Lively Mind' could be singles. Oakenfold's winning combination of trademark dance beats and surprising guest vocals really works. 'Fast Kill Pussycat' will no doubt kickstart Brittany Murphy's singing ambitions and the album is a perfect platform to build awareness of Spitfire. 'A Lively Mind' is the perfect background to the perfect club night out.
Celebrities Worldwide Rating: 8 out of 10
Click here to buy 'Oakenfold - A Lively Mind'
Reviews Archive