Sandi Thom - 'Smile...It Confuses People'

Monday 26th June 2006
By Philip Ellwood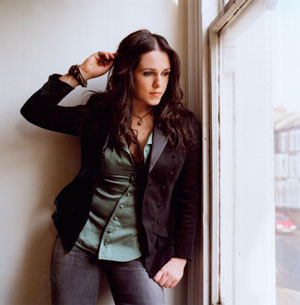 By now you'll have heard of Sandi Thom. In fact she doesn't really need an introduction. Her webcasts from the basement of her house are infamous and have been widely publicised. Her debut single 'I wish I was A Punk Rocker ( With Flowers In My Hair) was an instant smash-hit and reached the number 1 spot on the UK charts in its second week of release. The debut album 'Smile...It Confuses People' entered the album charts at number one and Thom is enjoying incredible success.
'Smile...It Confuses People' displays a depth to Thom's abilities that her debut single doesn't. 'I Wish I was A Punk Rocker' is quite a gimmicky number with it's sparse backing and strong vocal. The song is actually the weakest on the album and the other tracks display Thom's vocals and songwriting to a better extent. Album opener 'When Horsepower Meant What It Said' is a punchy 3-minute KT Tunstall-like number and gives an idea of what Thom is really about. The song packs a strong melody and tight lyrics; a trait which is evident throughout the album.
The most surprising thing about Thom's debut album is its country influences. Sometimes this influence is subtle but on tracks like 'When Horspwer Meant What It Said' and 'Sunset Borderline' the country vibe is at the forefront of the tracks. Thom fuses this influence with her love of pop to create radio-friendly tracks with mass appeal. Highlight's on the album include the ballad 'Castles' and anthemic 'What If I'm Right?'.
'Smile...It Confuses People' is a solid debut from Thom. It runs a little short at just over 30 minutes but aside from that it is an enjoyable collection of finely crafted pop songs. It remains to be seen if Thom will be able to repeat her success with her second album without the aid of the publicity whirlwind that accompanied this release. For the moment Thom is riding on the crest of success and this should continue with future releases from the album.
Celebrities Worldwide Rating: 7 out of 10
Reviews Archive