Dannii Minogue - 'The Hits & Beyond'

Monday 26th June 2006
By Philip Ellwood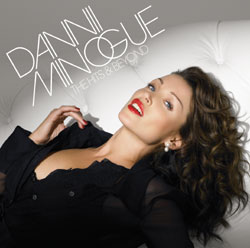 It's hard to believe that Dannii Minogue has been producing hits for sixteen years. From her debut single 'Love & Kisses' through to current single 'So Under Pressure', Dannii has fused the pop and dance genres like nobody else in the industry. With twenty hit singles under her belt, Dannii releases a collection of her classics along with five brand new recordings. 'The Hits & Beyond' is a celebration of Dannii's achievements so far with a hint of the direction she is taking with her new material.
'The Hits & Beyond' opens with two of Dannii's biggest UK hits to date from her 'Neon Nights' album, 'Put The Needle On It' and her signature tune 'I Begin To Wonder'. Both numbers are high-octane dance/pop classics which perfectly illustrate why Dannii has frequently found herself at the top of the club charts. Highlight's from the album are the euphoric-dance sound of 'All I Wanna Do', the garage influenced 'Everything I Wanted' and the R&B sounding 'Success'. Over the course of the first fifteen tracks you can really see how Dannii has developed as an artist. Her music has always sided with the pop/dance genres but as she has grown older her music has found a harder dance edge. Debut single 'Love & Kisses' is a fun pop track with dance influences whereas her latest single 'So Under Pressure' is a smooth, sexy electro-pop dance number. Dannii has honed her sound and found her own identity.
Dannii has always suffered from being compared with her sister Kylie. Personally I don't find the two all that similar and I have to admit I've always been a bigger Dannii fan than I have Kylie. Both produce perfect pop and it's a shame that Dannii never really gets the credit she deserves. The new tracks on 'The Hits & Beyond' show Dannii pushing the boundaries of dance further. 'Love Fight' is the best of the new tracks. It has a shimmering electro beat and Dannii has never sounded better. 'Sunrise' fuses rock with dance and has a thumping driving bass line, 'Gone' and 'Good Times' are Dannii at her disco best and rumoured future single 'I Can't Sleep At Night' harks back to a 70's influenced sound. Dannii really is pushing her sound further and stays ahead of her contemporaries every step of the way.
'The Hits & Beyond' is a fantastic collection and one that any self-respecting pop afficiando should have in their collection. As one collection, Dannii's hits are flawless and the new tracks certainly deserve their place on the album. In a bland pop-industry it's good to see that Dannii is still releasing material this good. Without her the pop/dance scene would be very bland. It's time that Dannii was recognised for her incredible career and this album should give her the recognition she deserves.
Celebrities Worldwide Rating: 9 out of 10
Click here to buy 'Dannii Minogue - The Hits & Beyond'
Reviews Archive