Last Holiday

Monday 3rd July 2006
By Philip Ellwood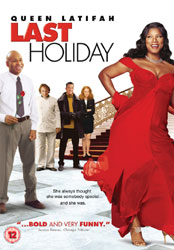 'Last Holiday' is a remake of the 1950 film of the same title. The story has been updated to appeal to a modern day audience. The film follows Georgia (Queen Latifah), a woman down on her luck and stuck in a dead end department store job. Whilst trying to pluck up the courage to ask out colleague Sean (LL Cool J), Georgia hits her head and is taken to a doctor for a routine check. The results of her test show she has a rare disease and Georgia is told she has a month to live. Instead of becoming depressed by her diagnosis, Georgia cashes in her inhertiance and decides to fly to Europe and blow the lot.
Surprisingly 'Last Holiday' isn't a depressing film. It has sad moments and threatens to become too sentimental but overall the movie is quirky and enjoyable. Queen Latifah is a joy as Georgia. A gifted comedienne, Latifah injects her trademark humour into the role and gives a reliably enjoyable performance. She carries the entire movie and she doesn't allow the audience to feel sorry for her character. The diagnosis gives Georgia a much-needed re-revaluation of her life and she finally manages to assess what is really important.
The supporting cast is star-studded and features enjoyable performances from Gerard Depardieu, rapper/actor LL Cool J and Alicia Witt (TV's 'Cybill', 'Two Weeks Notice'). Depardieu provides humour as Chef Didier and his character's friendship with Georgia becomes the heart of the movie. The chemistry between Latifah and Depardieu is touching and believable.
'Last Holiday' makes you reassess life and I found myself asking what I would do if I found out i had a month to live. Would i blow all my money and spoil myself like Georgia? To be honest I probably would because in the end you can't take it with you anyway! This made the film easy to relate to and Georgia's actions and reactions are perfectly plausible. The key to the movie is that you can sympathise with and understand Georgia. The festive setting of the story injects a strong emotional kick to the movie and is bound to guarantee the film a place in the Christmas TV schedules for years to come.
Overall I found 'Last Holiday' an enjoyable movie. Some may find the film too schmaltzy but Queen Latifah's performance marks the film as above average fare. The film is more likely to appeal to women and is th eperfect Sunday afternoon movie. If you like your cheese with a slice of emotion then 'Last Holiday' comes recommended.
Celebrities Worldwide Rating: 6 out of 10
Click here to buy 'Last Holiday' on DVD
Reviews Archive