Muse – Black Holes & Revelations

Wednesday 19th July 2006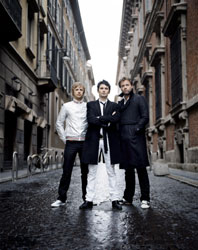 This new album from Muse is the follow up to their global smash hit "Absolution". "Black Holes & Revelations" flows seamlessly from one powerful track to another, and maintains an engaging, oddly beautiful and slightly acidic sound. It is a wonderful and sometimes weird combination of musical genres and inspirations that seems to incorporate Queen, dance music and everything in between, breathing life into an album possibly best described as Epic Rock.
It starts strongly. The belting opening track, "Take a Bow", is a sprawling, bombastic piece with a bitter aftertaste thanks to the angry vocals about corruption and destruction. The new single "Supermassive Black Hole" is a radio-friendly sexy rock track, as appealing to the casual listener as to the Muse devotee, which features some curious high-pitched vocals to a typically catchy melody.
Muse seem to be attempting the impossible with this album by following up their previous huge success and still ensuring that each progressive album sees the band grow, develop and change. It certainly sounds different from previous albums, whilst maintaining qualities essentially Muse; the fractured, raw vocals and the epic rock riffs. Overall, they have succeeded in delivering another album that can stand on its own merits without too much comparison to previous releases. Having said that, I don't believe it will be remembered as Muse's finest work. There are times when electronic sounds and beats seem to be used as fillers, or to beef up slightly wanting tracks, such as "Assassin", which reminds me of the "Knightrider" theme tune.
Nevertheless, there are some brilliant tracks on this album that will delight Muse fans. "Soldier's Poem" is a tenderly felt anti-war vignette which at only two minutes is an oddly short track but features superb harmonising that is uncannily redolent of Queen. "City of Delusion" enjoys a rather more stripped down sound, and begins with an acoustic accompaniment before launching effortlessly and cleverly into a Latin-sounding thundering chorus. It's very different, very melodic and also very beautiful. It is matched by "Knights of Cydonia" that continues the horses theme (which I am at a loss to explain), which at six minutes is a surprisingly upbeat and energetic piece about fighting for your rights. The scope of Muse's ambition is never more in evidence than in "Map of the Problematique"; nobody can touch them for this kind of epic rock: my life did indeed flash before my eyes.
Whilst not every track is a winner, "Black Holes & Revelations" remains a coherent and engaging vision, and is best listened to in its entirety to allow the sound to really come to life and draw you in to the hypnotic world suggested by the stunning cover art. It may take a few listens to let this album into your heart, but the perseverance should be ultimately rewarding. It is an enjoyable journey into the epic rock world, where Muse are very definitely your guide, even if they are taking you into territory they've never shown you before. Close your eyes and follow.
Celebrities Worldwide Rating: 8 out of 10
Click here to buy 'Muse - Black Holes & Other Revelations'
Reviews Archive