Pop Star

By Philip Ellwood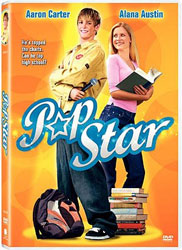 Teen heartthrob JD McQueen (Aaron Carter) receives a shock when his mother gives him an ultimatum - go back to school and pass math or he's banned from touring to promote his latest record. With little choice JD returns to school and finds himself battling to keep his feelings for his biggest fan, nerdy classmate Jane (Alana Austin), hidden. Desperate not to let his schoolmates know he's falling for Jane, JD tries to keep his cool image and maintain his popularity.
'Pop Star' is a cute little film. It's by no means a blockbuster or an amazing movie but is designed strictly for kids. As a vehicle for kids it's fantastic. 'Pop Star' mixes fun with morals and has enough substance to keep the kids entertained. The movie is more likely to appeal to American youngsters who are familiar with Aaron Carter (brother of Backstreet Boys singer Nick Carter) but nevertheless UK kids should find plenty to enjoy.
Aaron Carter isn't a great actor but he does enough to keep the film entertaining. Alana Austin as the nerdy Jane is a much better actress but together with Carter she manages to keep the film afloat. Older viewers will probably enjoy seeing 'The Partridge Family' star David Cassidy as JD's manager.
'Pop Star' is awash with cliches and unlikely situations but that doesn't detract from the charm of the movie. The film is clearly not made for adults to enjoy and I'm sure as a young kid I would have loved to watch this movie. The film is bright, colourful, youthful and the music is pretty good too. If you need something to keep your kid's quiet this summer 'Pop Star' could be what you're looking for.
Celebrities Worldwide Rating: 6 out of 10
Reviews Archive