Lily Allen - 'Alright, Still'

By Philip Ellwood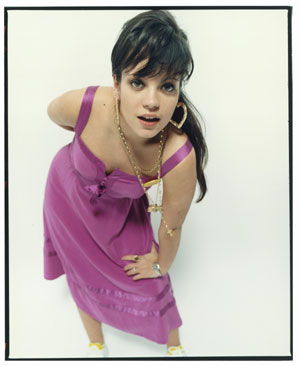 By now you should have heard about the phenomenon that is Lily Allen. Daughter of actor Keith Allen, Lily has forged quite a following through the online community MySpace. By the time Lily's debut single was released everyone already knew who she was and the pressure was on. Following the release of debut album 'Alright, Still', Lily is riding high. With number one single 'Smile' under her belt and her debut album at #2 in the charts it appears that Lily has survived the hype.
'Alright, Still' is a fresh, witty and hugely infectious debut. Introductory single 'Smile' is a good indication of what Lily Allen is all about. The summery feel of the lyrically sharp-witted revenge anthem is typical of what to expect from Lily. Throughout the album Lily combines her sugary sweet delivery with fierce lyrics and a double-punch of attitude. This is showcased perfectly on 'Knock 'Em Out', an ode to pathetic men who try it on with her thinking they stand a chance.
The album is a mixture of pop, ska and reggae beats. 'LDN' recalls Blondie around 'The Tide Is High' era, 'Everything's Just Wonderful' is a garage influenced number and 'Friend Of Mine' is pop mixed with reggae beats. The appeal of Lily is that she sings with honesty and her lyrics can be easy to relate to. She sings of heartbreak, the difficulty of being young and the state of modern day London. The issues covered during 'Alright, Still' are universal issues experienced by all people at some stage.
Lily has been compared many times to Mike Skinner of The Streets but I believe this to be a lazy comparison. Lily's music breathes new life into the pop world. She is proof that having opinions in pop music is allowed. You'd never catch her being interviewed and declining to speak of anything that may be controversial. If she has an opinion she states it and that is definitely to her credit.
'Alright, Still' is a fantastic debut album. How she is going to top it remains to be seen but Lily's brand of pop is a welcome breath of fresh air. Her sweet vocals complement the ska influences and combine to make for a perfect summer soundtrack. At least half of the album could be released as singles. Lily proves that sometimes hype can be justified. 'Alright, Still' is one of the best albums of 2006.
Celebrities Worldwide Rating: 9 out of 10
Click here to buy 'Lily Allen - Alright Still'
Reviews Archive