The Q Awards 2007
Presented on Monday 8th October 2007 at Grosvenor House, Park Lane London, W1K 7TN
Hosted by Jonathan Ross
Please find winners highlighted in red below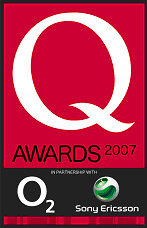 Kylie Minogue, Amy Winehouse, Arctic Monkeys, Damon Albarn and Sir Paul McCartney All Win at The Q Awards 2007
THE Q AWARDS 2007 in partnership with O2 and Sony Ericsson took place at London's Grosvenor House Hotel and proved once again that it is THE music event of the year.
The cream of the world's music stars attended the ceremony. The star-studded guest list included: Kylie Minogue, Amy Winehouse, Sir Paul McCartney, Arctic Monkeys, The Verve, Kaiser Chiefs, Ian Brown, Manic Street Preachers, Stereophonics, Damon Albarn, Johnny Marr, Dame Shirley Bassey, Kate Nash, Mark Ronson, Ryan Adams, Billy Bragg, Sigur Ros and many more.
The big winners of the day were Arctic Monkeys, Amy Winehouse, Kylie Minogue and Sir Paul McCartney. Arctic Monkeys won the prestigious Best Act In The World Today award, while Amy Winehouse was honoured for Best Album sponsored by Play.com. Both of these awards were voted for by the readers of Q. Kylie Minogue was presented with the Q Idol award and Sir Paul McCartney received the Q Icon award.
In addition Damon Albarn was presented with the Q Inspiration award sponsored by Orange Amplification, The Enemy were voted Best New Act sponsored by Myspace.com and Kate Nash won Breakthrough Artist sponsored by Ben Sherman.
Commenting about the awards Q Editor, Paul Rees, said: "This year, as ever, the Q Awards celebrate and herald great music of all genres and eras – from the best in new music to rock's legendary elite. As such they continue to reflect all that Q itself supports and cherishes. And, at a time when the digital revolution has prompted many to predict the demise of the music business itself, this year the awards also demonstrated that great music and outstanding artists will continue to flourish and inspire no matter how or where people to choose to listen to them."
Other standout winners of the day were Muse for Best Live Act sponsored by Marshall Amplification for the second year running; The Kaiser Chiefs for Best Video sponsored by 02, Ian Brown received the Q Legend award and Billy Bragg picked up the Classic Songwriter award.
The Q Awards are unlike any other UK music ceremony. With fewer than 450 guests, the event is a unique and intimate celebration of musical achievement with arguably the highest concentration of musical talent and fame in the world. In the past the Q Awards has played host to a stellar line up of artists that runs from Keith Richards and Kate Bush to Ian Dury, Joe Strummer and Johnny Rotten, from Christina Aguilera, Cher and Girls Aloud to Oasis, U2 and Coldplay. Where else, indeed, could Eric Clapton, David Bowie and Phil Spector have rubbed shoulders with Russell Brand, Spike Milligan, Tony Blair or Debbie Harry?
WINNERS & NOMINEES
Best New Act
The Enemy
Klaxons
Cherry Ghost
The Pigeon Detectives
The View
Best Track
Kaiser Chiefs 'Ruby'
Hard-Fi 'Suburban Knights'
Athlete 'Hurricane'
Manic Street Preachers 'Your Love Alone Is Not Enough'
Muse 'Knights Of Cydonia'
Breakthrough Artist
Mika
Kate Nash
Jack Penate
Jamie T
Calvin Harris
Best Video
Lily Allen 'Alfie'
The White Stripes 'Icky Thump'
Kaiser Chiefs 'Ruby'
Bjork 'Earth Intruders'
The Killers 'Bones'
Q Classic Song
Stereophonics 'Local Boy In The Photograph'
Q Classic Album
The Verve for 'Urban Hymns'
Q Innovation in Sound
Sigur Rós
Q Lifetime Achievement
Johnny Marr
The Q Merit Award
Ryan Adams
The Q Hero
Anthony H. Wilson
Best Album
Arctic Monkeys 'Favourite Worst Nightmare'
Amy Winehouse 'Back To Black'
Kaiser Chiefs 'Yours Truly, Angry Mob'
Arcade Fire 'Neon Bible'
Manic Street Preachers 'Send Away The Tigers'
Best Live Act
Arcade Fire
Muse
The Killers
Arctic Monkeys
Kasabian
The Q Legend
Ian Brown
Q Classic Songwriter
Billy Bragg
The Q Inspiration Award
Damon Albarn
Best Act In The World Today
The Killers
Arctic Monkeys
Foo Fighters
Muse
U2
The Q Idol
Kylie
The Q Icon
Paul McCartney