Dan Brown
11th February 2005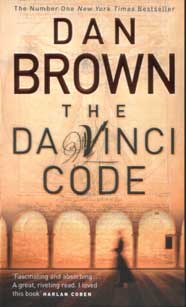 Published in paperback by Corgi on 4th March 2004, Dan Brown's labyrinthe, compulsive thriller The Da Vinci Code became Britain's bestselling book of the year and the fastest selling adult novel of all time.
The story of Harvard professor Robert Langdon and French cryptologist, Sophie Neveu deciphering bizarre riddles to solve a murder, has generated religious controversy, a surge in visitor numbers to Rosslyn Chapel, Da Vinci Code tours, record passenger levels on Eurostar, a film starring Tom Hanks and even a diet.
The Da Vinci Code is a massive international bestseller, a major word-of-mouth success. Sales figures are rising daily at an incredible rate. Worldwide sales currently stand at over 20 million. In the UK, the sales figure (according to Bookscan, which keeps track of 85 percent of the book trade's sales) is presently 1.4million, and there are approaching 4 million UK editions in print.
Dan Brown follows in the tradition of his much-lauded peers, and of Arthur Hailey and Tom Clancy in that he writes novels that not only offer a riveting plot, but are also based on thoroughly researched facts. His "Robert Langdon" novels take place against a background of secret societies, art history and religion.
The paintings, locations, historical documents and organisations described in the novel all exist. Photographs of the paintings and locations can be viewed at www.danbrown.com
The Plot
Harvard professor Robert Langdon receives an urgent late-night phone call while on business in Paris; the elderly curator of the Louvre has been brutally murdered inside the museum. Alongside the body, police have found a series of baffling codes. Langdon and a gifted French cryptologist, Sophie Neveu, follow a trail that leads far beyond the works of Leonardo Da Vinci from Paris to London and Scotland in a battle to crack the secret codes.
Unless Langdon and Neveu can decipher the labyrinthine code and quickly assemble the pieces of the puzzle, a stunning historical truth will be lost forever….
About the Author
Dan Brown is the bestselling author of Digital Fortress, Angels and Demons and Deception Point all published by Corgi. He is a graduate of Amherst College and Phillips Exeter Academy, where he has taught English and creative writing. He lives in New England and can be found on the web at www.danbrown.com.
Names In The News Archive