Harpers 100 Most Beautiful Women of the 20th Century
Tuesday 31st May 2005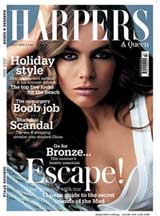 Harpers 100 Most Beautiful Women of the 20th Century, an exhibition curated
by Harpers & Queen and featuring 100 vintage images from the Getty archive
will be staged in Selfridges from May 23 until the end of June. Iconic
images from each decade will also grace the store windows of Selfridges on
Oxford Street.
The exhibition is the first part of an overall survey of beautiful women
from 1990 – today. Continuing the theme, the July issue of Harpers & Queen
will include a supplement naming the Harpers 100 Most Beautiful Women of
Today (names to be announced on May 31).
Harpers 100 Most Beautiful of the 20th Century celebrates the lasting
beauty of extraordinary women whose images are iconic. The list also
challenges the notion of typical beauty by showing how perceptions of
beauty have changed through the decades. Virginia Woolf (1900s) and Barbara
Streisand (1970s) are listed alongside the likes of Elizabeth Taylor
(1950s), Charlotte Rampling (1970s) and Hedy Lamarr (1930s). There are also
Russian acrobats and Indian princesses listed alongside Tsar's daughters
and models.
Lucy Yeomans, Editor Harpers & Queen comments;
"When it came to selecting our top 100, we enlisted the help of experts
from around the world; for example, the film director and producer Ismael
Merchant, is a font of knowledge on Indian beauties past and present. I
felt it was important to choose women who were highly revered in their day,
even if their particular aesthetic does not concur with today's ideals.
During the early decades of the last century people favoured a very
refined, angular beauty; it was only from the 1950s onwards that a more
wholesome and voluptuous aesthetic became popular, with actresses such as
Marilyn Monroe and Sophia Loren emerging as iconic beauties."
Kate Moss, whose look still resonates around the globe today has been
listed as one of the great beauties of the 1990s.
Almost half of those on the list are American, showing the overwhelming
strength of Hollywood through the ages in attracting and discovering
beautiful screen sirens whose images have become iconic.
Burlesque performer Dita Von Teese, comments;
"I have always adored Hedy Lamarr, she was such a sultry beauty. She is the
epitome of the classic femme fatale, and I love that she did an extensive
full-frontal nude scene in the 1930's. And let's not forget that she was
also a great inventor, she developed the technology used to guide satellite
torpedoes during WWII."
"Gene Tierney is one of my favourite actresses to watch, she had the face
of a living doll...so angelic, yet she could play even the most wicked
characters with ease. Those cheekbones were to die for, and she is
absolutely stunning in technicolor. I keep an autographed photo of her in
my boudoir. Even Daryl Zanuck was quoted as saying that she was
'unquestionably the most beautiful woman in movie history.'"
The list is guaranteed to create debate as people pick their own personal
favourites and the exhibition, on display in Selfridges, allows everyone
the opportunity to view this incredible collection.
Alannah Weston, Creative Director Selfridges, comments;
Selfridges' windows are seen by 80,000 people every day – it is an ideal
venue for an exhibition which will guarantee this kind of debate. What is
beauty? How has our perception of beauty changed throughout the last
century? How closely is it linked to style, presence, sex appeal and
talent? Selfridges' windows are known for their aesthetic standards, but
also for their daring in taking on controversial subject matter. The
Harpers 100 Most Beautiful exhibition will be no exception."
Top 20 Most Beautiful
1) Angelina Jolie
2) Christy Turlington
3) Rania of Jordon
4) Sofia Coppola
5) Nigella Lawson
6) Uma Thurman
7) Emmanuelle Beart
8) Kate Moss
9) Aishwarya Rai
10) Charlotte of Monaco
11) Charlotte Rampling
12) Beyonce Knowles
13) Cate Blanchett
14) Scarlett Johansson
15) Ziyi Zhang
16) Sophie Dahl
17) Natalie Portman
18) Liv Tyler
19) Gisele Bundchen
20) Jennifer Connelly
Names In The News Archive