Derren Brown - Something Wicked This Way Comes Tour 2005
Wednesday 22nd June 2005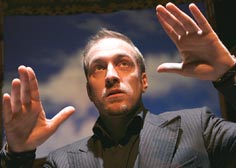 Michael Vine, Andrew O'Connor & David Walker for Objective Productions presents
Something Wicked This Way Comes Tour 2005

Derren Brown is back in town…
Derren Brown's sell-out new live show at The Cambridge Theatre has been extended until July 2 due to popular demand.
Coming off the back of a nationwide tour, this powerful and darkly-disturbing two hour fusion of magic, suggestion, psychology and misdirection is not for the faint-hearted.
Be prepared for plenty of audience participation and shocking mind-games from this unique and unsettling entertainer, whose critically acclaimed new series 'Trick of the Mind' was recently shown on Channel 4, regularly attracting over 2 million viewers.
This show is not suitable for under 12s.
The show is directed by Andy Nyman, designed by Will Bowen with lighting design by Nick Richings.
Ticket Hotline: See Tickets 0870 890 1102
Performance times: 8pm, Mon – Sat from May 31. Special extra performance 4pm on Sat July 2. Ticket prices: £30 - £15
Press inquiries:
Greg Day @ Greg Day PR
020 8368 2904 07889 861646 email:info@gregdaypr.co.uk

Names In The News Archive