Jo O'Meara - What Hurts The Most
Thursday 8th September 2005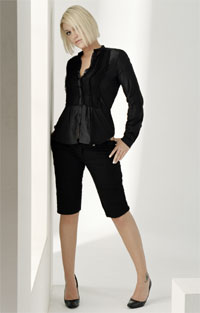 British songstress sets her sights on a return to chart stardom with breathtaking debut released September 26th through Sanctuary Records
Jo O'Meara, the girl with the golden voice, launches her much anticipated solo career with her debut single 'What Hurts The Most', a timeless ballad that showcases her stunning voice and delivery. Released on September 26th and taken from the album "Relentless", out on October 3rd, this single is certain to establish O'Meara as a major force in music in her own right.
O'Meara sings with both power and conviction and the emotive production complete with soaring strings complement her spectacular vocal. With an unbelievable control and poise, O'Meara captures both the raw essence of these heartfelt lyrics and her audience with enviable ease. 'What Hurts The Most' was produced by Brian Rawling and Paul Meehan. O'Meara is in illustrious company, as legendary producer Rawling was responsible for Cher's comeback single 'Believe', Lemar's 'Justice' and Enrique Iglesias' smash hit 'Hero' - he has also worked with multi-million selling artists Kylie and LeAnn Rimes.
Having sold 14 million albums, the long-awaited 'What Hurts The Most' from Jo O'Meara is a complete departure from fronting one of the most successful Pop groups of the 90s. Whilst the enthusiasm and love of performance remain from the S Club days, O'Meara is back completely on her terms, with a real maturity of approach and, most importantly, an album boasting a batch of hard-hitting credible tracks. This time she's in control.
O'Meara has served her apprenticeship and she's certainly got the talent and drive in abundance. September 26th marks the first step on what is certain to be a long and successful journey. 'What Hurts The Most' is released through Sanctuary on September 26th. The debut album 'Relentless' follows on October 3rd.

Names In The News Archive