a-ha - Analogue
Friday 3rd February 2006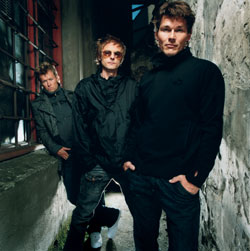 Norwegian pop legends return with brand new album & single
Morten Harket, Magne Furuholmen and Paul Waaktaar-Savoy, collectively known as a-ha, are returning with 'Analogue', their superb eighth studio album on January 23rd. The release will come on the same day as a new single 'Analogue (All I Want)' hits the shelves.
Analogue is a showcase for beautifully written modern pop and opens with the brooding 'Celice', named after the device that crops up in the best-selling book 'The Da Vinci Code'. The track will be used in the forthcoming movie adaptation starring Tom Hanks. First single and title track 'Analogue (All I Want)' is a fine example of how Morten's vocals have lost none of their strength or definition, while 'Birthright' is a moving mid-tempo ballad.

The group are best known for their decade-defining hits of the 80's and the trio have been a key influence on some of today's biggest acts – Coldplay, U2, Robbie, Keane, Travis, Morrissey, Bloc Party and The Darkness, to name but a few. Indeed, Ed Harcourt, Coldplay's Guy Berryman and Will Champion and Travis's Andy Dunlop all appear on Magne's recent solo album.

The band's career stats are impressive (over 30 million records sold, 63 top of the chart placements in 27 countries, 13 top ten singles in the UK, 409 concerts before uncounted millions in 31 countries), but the confident and unmistakable tracks on 'Analogue' will show that a-ha very much have a future as well as a past.

Reviewing 'Analogue' Uncut stated that "Coldplay's Norwegian mentors hit new heights" while The Sun called the album "stunning" and Sunday Times Culture said "a-ha are as relevant as ever".
Fans were able to catch the band turn in some fantastic performances on their December arena tour of the UK and will also be able to see the band perform at a very special HMV Oxford Street in-store appearance on January 30th.
Click here to buy 'a-Ha - Analogue'
Names In The News Archive