BAFTA/LA Elects New Chairman, Officer and Directors To The Board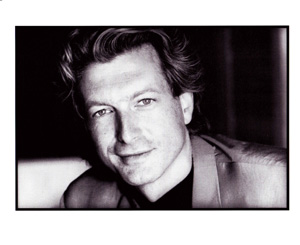 LOS ANGELES, CA, JANUARY 12, 2006 – The British Academy of Film and Television Arts/Los Angeles (BAFTA/LA) has elected a new Chairman, one new Officer, and five new members to its Board of Directors, effectively immediately.
The newly elected Board will make its first public appearance at the 12th Annual BAFTA/LA Tea Party on Sunday, January 15 at the Park Hyatt Los Angeles.
Peter Morris has been elected BAFTA/LA's new Chairman, replacing outgoing Chairman Gary Dartnall, who served in that position for the past five years. A Scotsman, Morris has a background in TV news as a senior reporter, newsreader and producer and is a former show business editor at 2 UK network TV shows. He recently turned to film production with his first independent feature TRUST ME, currently in post-production. Attendees at BAFTA/LA screenings will also recognize him as the moderator of many of their frequent Q&A sessions.
New Chairman Morris states: "BAFTA/LA has grown tremendously in size and stature in recent years and I'm glad to have been a part of that growth along with my fellow board members past and present. It's an honor to have been chosen as Chairman and while, like all non profit organizations, we face challenges, we do work in the entertainment industry, after all, so I'm looking forward to having some fun as well, starting with our annual Tea Party this weekend."
Board Director Bumble Ward has been elected Treasurer and joins returning officers Deputy Chair David R. Ginsburg and Secretary Alexander Rufus-Isaacs.

The newly elected Board Directors are Norma Acland, Clare Baren, Katherine Haber, Ian Jessel, and Julia Verdin. Re-elected to new Board terms were Duncan Clark, David R. Ginsburg, Melanie Greene, Paul Heller, and Peter Morris to new two-year terms. They will join members Ian Abercrombie, Ashok Amritraj, Gabrielle Kelly, Rolf Mittweg, Alexander Rufus-Isaacs, Gavin Scott, Bumble Ward, and Ian Wrigley. Donald Haber continues to serve as Executive Director.
Norma Acland is General Counsel, Production/Distribution, at Carsey-Werner. She has been a legal and business affairs executive with film and television companies in the U.S. and U.K., including CBS, BBC, Granada, and David Puttnam and Jim Henson's companies.
Clare Baren is a prolific producer whose credits include such DVD re-releases as SNOW WHITE, SLEEPING BEAUTY, and BEAUTY AND THE BEAST. She has previously served as the head of production for CBS Records, A&M, and Capitol Records.
Katherine Haber has been involved in the productions of such landmark films as BLADE RUNNER and AT CLOSE RANGE. She was a founding member of BAFTA/LA, and recently spearheaded the Helen Keller Park project for under-privileged youth.
Ian Jessel is a film producer and distributor. He has previously served as Vice President of International Distribution and Marketing at CBS Films, as well as the President of Miramax International. He currently has three films in production, including GUISEPPE'S WAR, SHADOWPLAY, and INKAS.
Julia Verdin is an independent film producer and actress. She has produced critically lauded films including STRANDER, THE MERCHANT OF VENICE and RIDING THE BULLET.
The British Academy of Film and Television Arts/Los Angeles (BAFTA/LA) is a professional, independent, non-profit organization founded in 1987, which operates as an affiliate of BAFTA, headquartered in London. Its members represent all disciplines of the entertainment industry and have full voting rights in the annual Orange British Academy Film Awards (known as the BAFTAs). With over 1,100 voting members, BAFTA/LA is the largest British professional industry organization outside of the UK.
BAFTA/LA's various activities include membership screenings, Q&A's, film scholarships, the Heritage Archive Video Interviews, and the BAFTA/LA Cunard Britannia Awards. Its outreach program extends to hosting numerous educational events for various entertainment organizations as well as students and inner-city school children. In 2005, BAFTA/LA instituted an after-school screening program for inner-city youth at the Helen Keller Park Recreation Center.
Names In The News Archive