The Apprentice 2006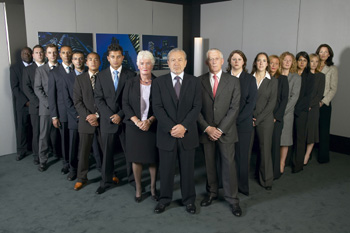 1 Vacancy. 6 Figure Salary. 14 Aspiring Tycoons. 12 week job interview.
"The thinking man's reality show." The Sun
"All in all the most addictive show in years." The Daily Telegraph
"This is not just a game show: it's a business school." The Sunday Times
"A salutary lesson in aggressive buying and selling, hiring and firing." The Guardian
"Terrifically compelling." The Evening Standard
"Jaw dropping viewing." The Mirror
The brand new series starts 9pm on Wednesday 22nd February on BBC TWO
Repeated Tuesday at 7pm on BBC TWO


SIR ALAN'S NEW CANDIDATES REVEALED
Following the huge success of the first series, The Apprentice is back for a 12-week run on BBC TWO starting on Wednesday 22nd February at 9pm. The critically acclaimed show returns to challenge a new group of aspiring tycoons to test their skills in this unique business entertainment series.
Competition this year was fiercer than ever with over 10,000 people applying for the six-figure salaried job with Sir Alan Sugar. These applications were whittled down to the final 14. Aged between 25 and 39, the CVs of the short listed candidates boast; a lawyer, an ex-Millwall footballer, a Cambridge graduate, a university lecturer, a management consultant, a cancer survivor, a financial advisor, a pharmacist, an IT manager, a black belt martial artist, a restaurant manager and a former supermarket check-out girl.
All have bravely quit their jobs to face the biggest challenge of their lives, a 12-week job interview with the self-confessed; "most belligerent person you'll ever come across" – Amstrad boss and multi-millionaire Sir Alan Sugar. This new series promises tougher tasks, some of the most explosive boardroom scenes yet and tears from day one as each week an apprentice is singled out for the sack with Sir Alan's terminal catchphrase -"You're Fired".
The second series also marks an expansion of The Apprentice's regular programming and sees the launch of sister-show 'The Apprentice: You're Fired' on BBC THREE, presented by Adrian Chiles (BBC TWO's 'Working Lunch'). The new show will give the fired candidate the chance to dish the dirt on their colleagues and provide their immediate reactions to the boardroom showdown. The final episode will be followed by a one-off BBC TWO show 'The Apprentice: You're Hired' focusing on this year's winner. Ahead of the new series, BBC TWO are also broadcasting a special documentary on last year's winner Tim Campbell titled 'Tim in the Firing Line' (TX 19th February).
The Apprentice will be the first big broadband experience available on the channel's new-look website, (www.bbc.co.uk/bbctwo), as part of the BBC's TV Plus trials. As well as the chance to watch 'The Apprentice' again for the duration of the series, there will be 'must-see' teaser clips from forthcoming episodes and the opportunity to catch some of the best moments again, including the infamous Sir Alan Sugar firings. Viewers can also rate their enjoyment of the programme and watch candidates' audition interviews.
The existing Apprentice Website will complement broadband features on the BBC TWO website with a blog from last series' candidate Saira and the popular celebrity stock market game Celebdaq which will list all the candidates.
Roly Keating, Controller of BBC TWO, says: "Intelligent reality is back with a gripping insight into the machinations of the business world. We've listened to audience feedback and this series we'll be giving viewers a greater insight into Sir Alan's decisions, the firings and the apprentices themselves through additional programmes, broadband and online content."
In the first episode Sir Alan makes it quite clear who's in charge and what he's looking for: "You are not here to enhance some form of media career - so if any of you gentlemen are thinking of prancing around in your Calvin Kleins you can forget about it… and ladies flashing your hair back is not going to get you anywhere… This is not a game. There is no phone-in here. There is no 'text-a-number'. There is no panel of judges that's gonna make the decision. I'm the one that decides who gets fired, and I'm the one who decides ultimately, who gets hired."
Tim Campbell, last year's winner, was subsequently appointed the Project Director for Amstrad's health and beauty division where he has enjoyed continued success. His year long contract has been extended bearing testament to the fact that The Apprentice proved to be a hugely useful recruitment tool for Sir Alan and one that he is keen to repeat.
Each week ambition, business flair and wit are tested to the full as the 14 compete in business tasks set by Sir Alan. These weekly challenges are designed to push the candidates' knowledge and resolve to the absolute limits. The group is divided into teams and the team that wins the weekly assignment will be given a reward, but the losers must report to the boardroom for a showdown with Sir Alan and his two trusted assistants, Margaret Mountford and Nick Hewer.
After getting grilled on their mistakes, one apprentice is then singled out for the sack. The tasks continue until the last man or woman standing gets hired and becomes Sir Alan's Apprentice. Throughout the series, the candidates will live together in a luxurious multi-million pound mansion in "Millionaire's Row" in North London and experience a taste of the high life they all aspire to.
Sir Alan said: "One of them is going to get a job working for me. But in order to do that, they are going to have to prove to me that they have the business acumen, the brains, the intelligence and the entrepreneurial spirit that I need. The winning Apprentice will help run one of my multi-million pound companies. This is not a game. It is for real."
Sugar himself left school in Hackney aged 16 and started trading from a small council flat. By the 1980s his Amstrad computer was a household name across Europe and the company celebrates its 40th anniversary in 2008. Thick skinned and uncompromising, he became Chairman of Tottenham Hotspur FC, and is still their biggest single shareholder. He has a full pilot's license and owns an executive private jet company AMSAIR. He was recruited to the government's Treasury Industry Team where he is an advisor to Gordon Brown on youth enterprise. Now aged 59, Sir Alan is still at the top of his game with a global empire worth £800 million placing him at 55th on The Times Rich List.
Of last year's runners up; three have already launched their own companies and one has earned multi- millionaire status. Raj Dhonota launched his own company Global Proximity - a UK based firm that outsources work to foreign countries, Adele Lock opened a men's grooming salon 'Gentry Grooming' and Matthew Palmer is running a medical website – successfulpregnancy.com. Paul Torrisi has sold his property company for £4 Million.
Also accompanying the series is the BBC book: The Apprentice: How To Get Hired Not Fired. Fully revised and updated for the new series, and written in Sir Alan's inimitable straight-talking style, it is the ultimate personal business guide, packed with practical tips on succeeding in the business world. The '12-week job interview' is devised to keep readers on track, while tasks based on lessons learned in the TV series will help develop those all important management skills. Published 16th February 2006; priced £7.99.
THE CONTESTANTS
Names In The News Archive