Pink - Stupid Girls
Thursday 16th February 2006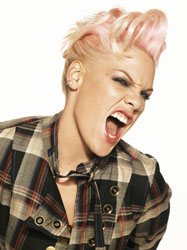 Pink's 'Stupid Girls' will be released on 20th March 2006
Pink's 'I'm Not Dead' will be released on 3rd April 2006
Fresh from marrying motocross star Carey Hart in sunny Costa Rica, Pink is gearing up for another assault on the global charts. Pink has always pushed the pop envelope as much in her music as in her attitude and style. Her return in 2006 is no exception to this rule.
'Stupid Girls' is the first track to be taken from Pink's forthcoming album 'I'm Not Dead' and proves her to be as vivacious and outspoken as ever. Released on 20th March 'Stupid Girls' is a commentary on the new breed of celebrity currently dominating and obsessing the western world's media. Spitting satirical jibes at the slew of heiresses, glamour models, pap pop artists and any other figure of fame who is famous for being famous, 'Stupid Girls' rejects the D list celebrity as a suitable role model for the youth of today.
In a recent survey published by The Sunday Times, girls aged between 15 and 19 were asked which careers they wished to pursue. 63% said glamour modelling and 25% lap dancing in comparison to 4% saying lawyer and 3% doctor – a shocking upshot of the superficial cult status of today's airhead celebrity. An opportune time then, for the message of 'Stupid Girls' to dominate our airwaves.
Keen to reinforce the importance of strength of mind and self-sufficiency, 'Stupid Girls' sees Pink hit the nail on the head as she soulfully demands "What happened to the dream of a girl president…" "Where, o where have the smart people gone?" Accompanied by a superb video that parodies the airhead glitterati, the track perfectly complements Pink's savvy lyricism with a rocking chorus that effortlessly fuses two of her favourite genres, pop and rock.
"I'm so glad that I'll never fit in, that will never be me, outcasts and girls with ambition that's what I wanna see!"
Having sold over 3 million albums in the UK and 20 million worldwide to date, who can deny that Pink is a girl with ambition? An artist with a vision and an outlook on life that is both inspirational and individual. A refreshing change from the platinum-haired army of the stupid girls we all love to hate. The message is clear: if it's a mentor you're after, think Pink.
Click here to buy 'Pink - I'm Not Dead'
Names In The News Archive