Shakira - Oral Fixation Volume 2
Thursday 16th February 2006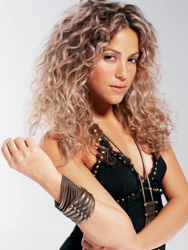 Shakira's 'Oral Fixation vol. 2' will be released on 6th March 2006 on Epic through RCA Label Group.
'Don't Bother' will be released on 27th February 2006.
"pop genius"
Observer Music Monthly – 4 Stars
"a force of nature is with us"
Q – 4 Stars
With an image that is firmly etched on the worldwide public consciousness and 27 million albums under her belt, Shakira has the looks, sales record and live presence of a mainstream global superstar such as Christina Aguilera. With a musical talent that is not only limited to singing and writing her songs but also arranging and producing them, she has the artistic merits of a credible musician such as Alicia Keys. A walking, talking, performing cultural melting pot (as reflected in both her background and her music) Shakira has world-music sensibility Peter Gabriel would admire. Politically savvy and socially aware, Shakira, a UNICEF ambassador, has an articulate grasp on what's going on in the world today that is reminiscent of traditional singer-songwriters such as Joan Armatrading. To have all these elements in one artist is unprecedented. Quite simply, 28 year old Shakira stands alone.
In 2001 Shakira went from Latin American songstress (with two Spanish language albums to her name) to revered global superstar with the release of her first English language album, 'Laundry Service'. The Grammy award winning 'Laundry Service' went 13x platinum and earned Shakira the title of Biggest Selling Latin Female Crossover Artist in the world.
In 2005 Shakira returned with the release of 'Fijacion Oral vol. 1', which made history by debuting in the UK and the US higher than any other Spanish language release ever. It went on to sell over 3 million copies worldwide and earned Shakira the award of 'Best Female Artist' at the recent MTV European Music awards. 'La Tortura', the first single to be released from 'Fijacion Oral vol. 1', became a No.1 radio smash round the globe and the No.1 Spanish language ringtone ever. The video that accompanied 'La Tortura' broke new ground as the first ever Spanish language video to receive regular rotation on MTV and VH-1, while MTV's 'Making of the video' marked the first time in history that MTV broadcasted a 'Making of' in Spanish.
2005 also marked Shakira's show-stopping performance at Live 8 – she was the only Latin-American to perform on the day.
In 2006 Shakira will release 'Oral Fixation vol. 2' in the UK. Written and produced by Shakira - alongside longtime collaborators Gustavo Cerati, Lester Mendez, Luis Ochoa, and Tim Mitchell – 'Oral Fixation vol. 2' finds Shakira at an all time creative high featuring choice cuts from a collection of over sixty songs penned by Shakira over the last two years. Executively produced by Rick Rubin, 'Oral Fixation vol. 2' highlights Shakira's ever-present desire to experiment with music and disengage herself from the norm. Reflecting her own multi-dimensions as an artist, she juxtaposes one musical genre with another, be it a heady mix of Latin horns and electro beats ('Animal City'), tribal choruses and synth pop ('Timor'), or Gregorian chants with rock infused riffs ('How Do You Do'). Lyrically, Shakira is often untamed - at times representational of the magical realism of the literature of Latin America "Once upon a time, when we were green, as fresh as limes" ('Dreams for plans') and at others, more realistically aware of the cultural and social demise surrounding her "Its an animal city, it's a cannibal world" ('Animal City'). Throughout the album, what remains most alluring is Shakira's unique voice -possessed by duende and sensuality it ranges from a provocative whisper to guttural cry in just one phrase.
The first single to be taken from 'Oral Fixation vol. 2' will be 'Don't Bother'. Evoking destructive passion, 'Don't Bother' is an emotional ménage of pre and post breakup frustration directed at the man who is cheating on Shakira with a woman who 'went to private school' and is 'tall and fat free'. Released in early February 'Don't Bother' is the perfect antidote to Valentine's Day schmaltz, the unconventional lover's anthem.
Indeed the unconventional approach to things is characteristic of Shakira and is no more evident than in the artwork of 'Oral Fixation vol 2'. A depiction of Shakira as Eve tasting the forbidden fruit in Renaissance style hints at Shakira's fascination with the traditional iconography of the female as both deceiver and mother, with the mouth as the instrument of both song and spite: "Mother and child and original sin are recurrent concepts of the Renaissance period, and I wanted to (use) the historical character, I wanted to attribute to Eve more reason to bite the forbidden fruit"- she says.
Click here to buy 'Shakira - Oral Fixation Vol 2'
Names In The News Archive