House MD Season One
Wednesday 22nd February 2006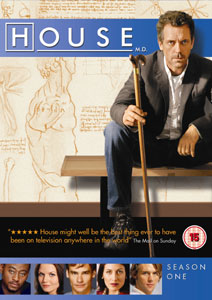 House Comes Home As The Complete First Season Of Laurie's Smash Hit Medical Drama Is Released On DVD
Out On DVD From 27 February 2006
The brilliant American medical drama series, House MD, starring Hugh Laurie is being released in the UK as a special box set DVD collection by Universal Pictures Video on 27 February 2006.
The set contains all 22 episodes of the first season of the show which propelled Laurie to global stardom in America, Australia and the UK (where it aired on Five) winning the actor rave reviews for his portrayal of the brilliant but sarcastic maverick physician Gregory House.
It is also packed with fantastic bonus extras including The Concept (which outlines the background to the programme), Hugh Laurie's Casting Session, Medical Cases (detailing the precise medical aspects of the programme), a Set Tour, House-isms (Dr House's most hilarious lines from the series) and Dr House (Hugh Laurie and the crew on Dr House)
House's behaviour frequently borders on the anti-social. On occasions he displays a startling lack of bedside manner which suggests he wouldn't even talk to patients unless he had to but – in similar vein to Sherlock Holmes on whom aspects of his character are based - he thrives on the challenge of solving the riddles which baffle fellow professionals.
Aided by his team which includes Dr Lisa Cuddy (Lisa Edelstein), Dr Eric Foreman (Omar Epps), Dr Robert Chase (Jesse Spencer) and Dr Allison Cameron (Jennifer Morrison), House shows his skill as a brilliant diagnostician who loves the challenges of the medical puzzles he must solve to save lives.
Frequently the episodes are detective stories where the villain is the disease or the condition and in which the patient frequently lies to the doctor.
The result is compelling medical and human drama which gripped up to 18 million viewers per showing in the USA where the series was propelled into the Top Ten. So flawless was Laurie's American accent that viewers in the USA were convinced that the star of 'Blackadder' and 'Jeeves and Wooster' was a native of their country.
With the second series of House airing in the UK on Five this winter, the Universal box set DVD looks sure to be one of the season's sure fire best sellers.
Click here to buy 'House Season 1 DVD'
Names In The News Archive